Is 'Right Click' more than just a mouse button?
Definitely it is. The fact is, the right click button of your mouse provides you some amazing shortcuts that help you directly access some vital features and functionalities on your Windows based PC. Not that you couldn't do the same things without right clicking your mouse, but the same objectives might have been a lot more lengthy, complicated, and time consuming for you to achieve.
The right click button of your mouse works in a contextual manner, which means it responds differently in different contexts when you click it. Broadly, these contexts can be classified into three main categories:
Right Clicking a file icon
Right Clicking within a file folder
Right Clicking within the desktop folder of your Windows PC
Right Clicking a file icon
When you right click at a file icon, you get a menu that shows up like this on the right: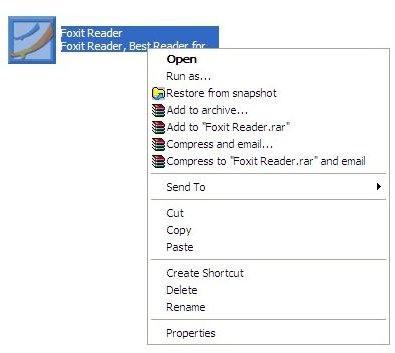 Within the menu, on the top you see an option to 'Open' or run the file. The 'Run as' only applies to application files, which you can associate the application with a specific Windows user account.
The 'Print' and 'Edit' options are made available only for text or document files and you can also directly convert the file into a archive file with zip, rar, or any other extension of your choice if you have installed any archival software such as WinRar upon your PC.
The next option is 'Send to', that leads you to yet another sub-menu enabling you to compress the file into a zip document through the Windows File Compression Wizard or create a desktop shortcut to the desired file. You can also directly send the file to a floppy drive, your My Documents folder, or to your Email client through this right click sub-menu. Other options in the right click menu are Cut, Copy, Delete, Rename, and 'Create Shortcut' for creating a shortcut to the file.
At the bottom you might see a 'Properties' option, which shows you the contextual vital details about the file. For instance, in case of an image file, it might help you know its exact size in pixels, file format, and its resolution in pixels per inch. While in case of an application file, it will tell you the version number, proprietary information, compatibility details and the digital signatures, if any, attached with the application.
Right Clicking within a file folder
When you right click within a file folder, you see a menu as on the right: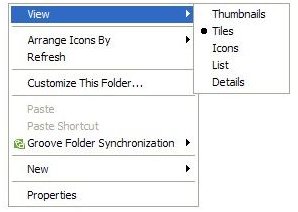 In the menu, there are a number of options with a black arrow indicating a sub-menu, the 'View' sub-menu being on the top. Within the 'View' sub-menu, you find some options that decide the way you will see your file icons within file folders on your PC. Upon your preferences, you may wish to see your file icons as Thumbnails, Tiles, Icons, List and Details.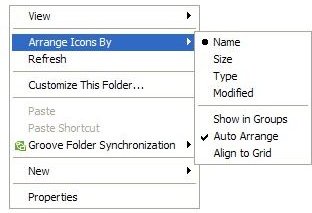 Right below the 'View' sub-menu, you may find an 'Arrange Icons By' sub-menu, letting you arrange the file icons within your file folders according to the criteria such as the Name, Size, Type and the time the file was last Modified.
The right click menu also shows a 'Refresh' option, and a 'Customize The Folder' option, through which you can customize various features related to the folder, such as the Folder icon, Folder picture, Hidden or Read-only Attributes, and Folder sharing options.
Right Clicking within the desktop folder
Then menu you get when you right click on the Desktop is quite similar to what you get when you right click within a file folder. There are two additional options which are Graphics Options and Display Modes, as shown in this image.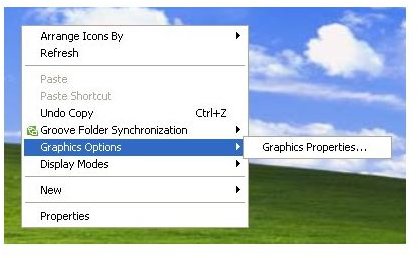 Graphics Options lets you manipulate the advanced graphics properties being supported by the display card of your PC. Through Display Modes, you can select whether you want High Color, True Color, or any other Color display with an optional pixel resolution.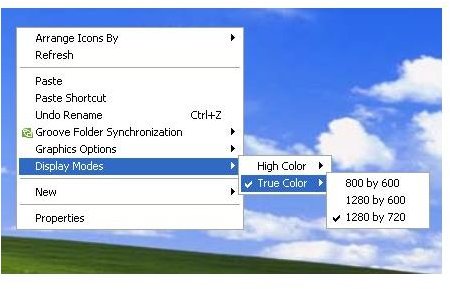 The Properties option in the right click menu provides you a shortcut to the Display Properties of your PC, wherein you can customize the Windows Theme, Desktop Background, Screen Saver, Windows Appearance, and advanced Display Settings of your PC. You can customize the way your desktop screen looks, and enhance the display settings such as the default font size and color that Windows uses to display the files and folder names.
The list of useful things you could do with a 'Right Click' doesn't end here, as every application offers some contextual shortcuts emerging from the right click of your mouse. So the next time you work within your favorite application, don't forget to play around with right clicking your mouse. Who knows, you might be end up exploring something not even mentioned in the user manual!