Getting Started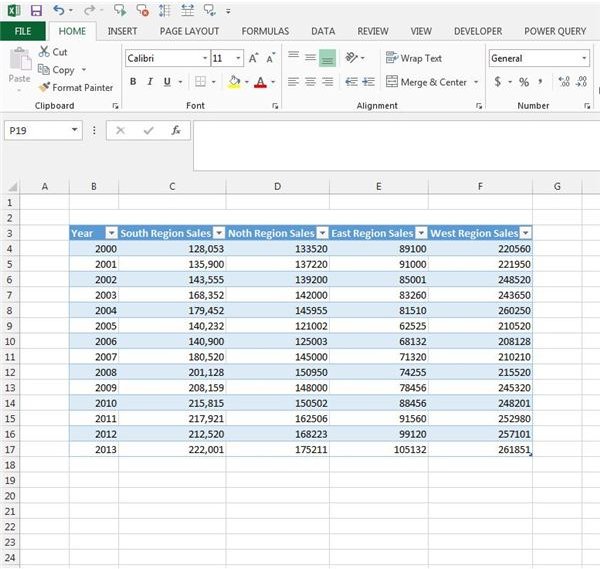 Start by laying out your data in Excel. As you can see in Figure 1, I have a table of data showing sales figures by year and region. We will take this set of data and turn it into an attractive graph. Before you go too far, you may want to create a table of your data. The simplest way of doing this is to select all of your data –including headings—and click Format as Table on the Home tab. Make sure to select the option that states, "My table has headers."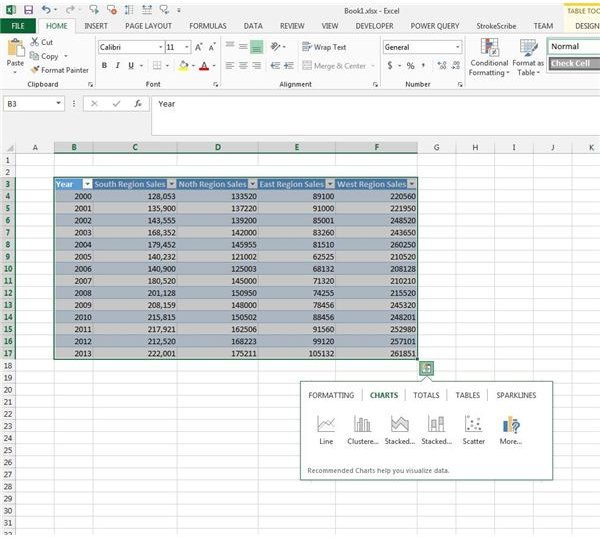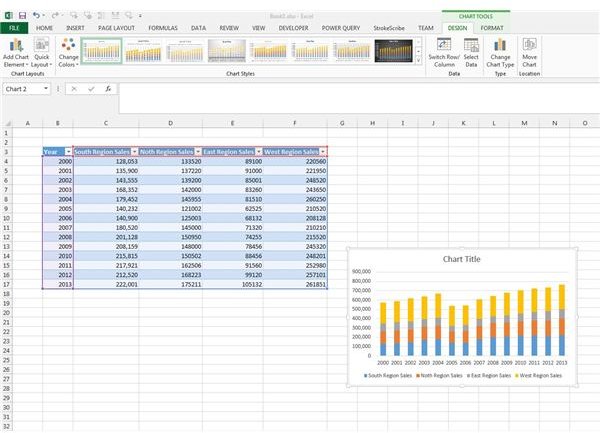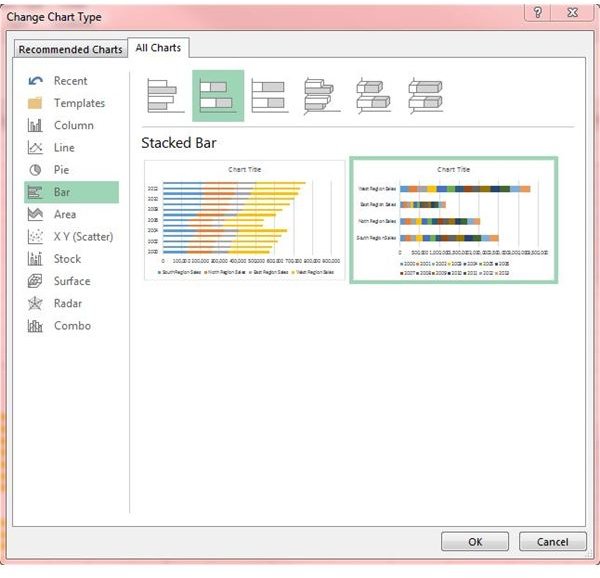 Creating your first Graph
Excel 2013's new Quick Analysis tool lets you easily create an eye-catching graph. Just select your data (including the headers) and hover over the small icon on the bottom right of your table. Click on Charts and select the type of chart you want to create (Figure 2).
As you can see in Figure 3, I have selected the stacked bar chart. Once you have your basic chart you can easily make modifications to the colors, layout and text of your chart.
If you decide you don't like the layout of your chart, click on the chart and go to the Chart Tools -> Design tab. Select Change Chart Type. For instance, instead of a vertical bar chart you may want horizontal listing each region along the x-axis. All of the chart options will be listed and you can easily hover your mouse over a choice to see a preview of your chart (Figure 4).
Customizing Your Chart
You can modify nearly any aspect of your chart. While many of these things can be done by using the Chart Tools -> Format menu, it's sometimes easier to use the little popup box that appears next to your chart when it is selected.
The first icon is for modifying the chart elements (Figure 5). Select the items you wish to display on your chart or de-select them to remove them.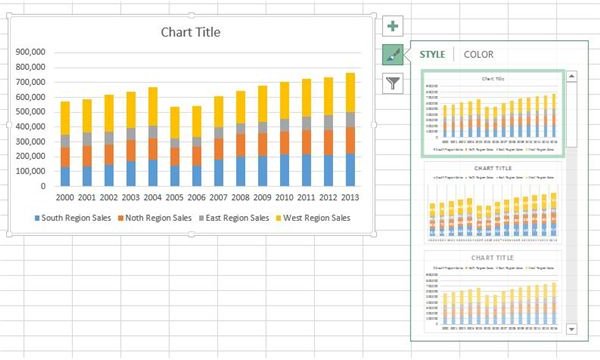 The second icon controls the look and feel of your chart. From here, you can control the aesthetics of your chart. The Style tab lets you pick different layouts for your chart along with shading options. The color tab lets you select custom colors for your chart (Figure 6).
The final button is for filtering data displayed on your chart. Filter data out of your chart by selecting one of your various table headers or data sets.
That covers the basics of creating a bar graph in Excel. As you have seen, it's now more effortless than ever to create a great looking chart. Don't be afraid to play around with the settings to see how best to visualize your data.