How to Run a Successful Microsoft VM Update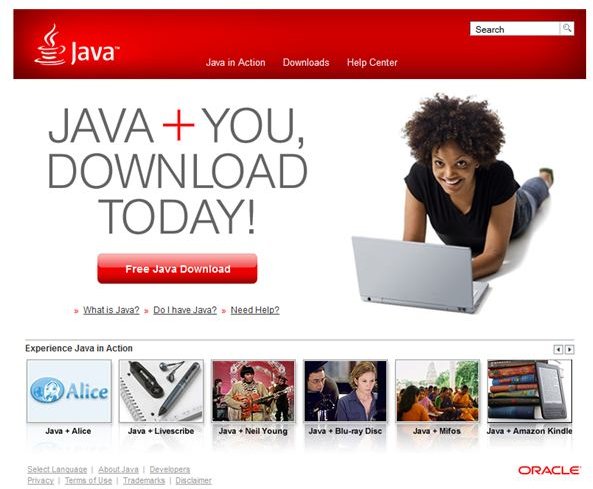 Java virtual machines are used to display various rich web applications and other useful Java tools and applications within web pages on computers. Designed to be portable – that is, run on any platform with a web browser – Java was introduced by Sun Microsystems in 1995, which is now owned by Oracle.
The idea of a virtual machine is to create an environment in which software can be run regardless of the host hardware, and this is why Java has proved so successful over the years in providing browser based games, chat rooms and many other tools that can be accessed from any Java-enabled device. Various mobile phone platforms also support Java.
Windows computers run Java apps in the browser thanks to an application that must be downloaded and installed. In the past, this has been the Microsoft VM, which would be updated from time to time, however in recent years this component has been replaced with software directly from Sun Microsystems.
Java VM and Internet Explorer
Java is a programming language which is most commonly found providing games for web pages, although there are far wider applications, such games installed onto your desktop and even various non-game applications. Basically, it is flexible and versatile; something quietly confirmed by the ease with which Java applications transcend the barriers of different operating systems.
Up until 2006 Windows users benefited from download for Internet Explorer, but this no longer occurs thanks to a disagreement between Microsoft and Sun Microsystems. The latter accused Microsoft of breaking the terms of the Java license by refusing to support certain functions and adding their own, and following legal action and a settlement of $20 million it was decided that Microsoft would no longer license the technology from Sun.
As a result, Windows users were left with the task of finding a new source for their Java downloads – or face life without their favorite chat rooms or online games.
How Do I Update?
If you are running Windows Vista or later, you should already have downloaded the latest version of Sun Java, from www.java.com.
Users of older versions of Windows, however, will be in the position of having a browser that doesn't play the most recent Java applications in the correct way while being tied to an old version that needs removing.
In order to update to the latest version of Java, you will need to remove the old Microsoft-licensed Java VM, upgrade your browser and then download the latest Java release.
This is a slightly complicated process, thanks to the tricky task of removing the Microsoft Java Virtual Machine.
How to Remove Microsoft Java Virtual Machine
While most applications are removed from Windows by opening Start > Control Panel > Add/Remove Programs and finding the software you want to uninstall, removing the Microsoft Java Virtual Machine is a slightly different matter.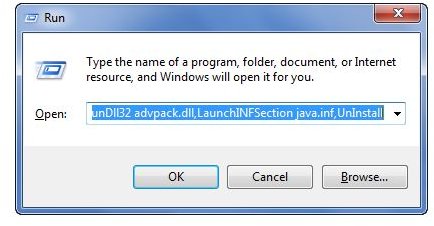 Begin by hitting WINDOWS+R to open Run, and type (or paste):
RunDll32 advpack.dll,LaunchINFSection java.inf,UnInstall
Click OK to accept this uninstallation command, and click Yes on the warning box that is displayed. Windows will eventually prompt you to restart your computer, which you should do.
Once the system restarts and you have logged back in, you will need to find and delete the following files and folders:
C:\Windows\inf\java.pnf
C:\Windows\Java
C:\Windows\System32\wjview.exe
C:\Windows\System32\jview.exe
We're tidying up here, getting rid of the files and folders that were used by Microsoft Java Virtual Machine. As it can no longer be updated, these components are no longer needed.
After deleting this data, the last step is to tidy the Windows system registry. Hit WINDOWS+R again and in the Run box type regedit.
The final step is to find the following keys and delete them:
HKEY_LOCAL_MACHINE\Software\Microsoft\Java VM
HKEY_LOCAL_MACHINE\Software\Microsoft\Internet Explorer\AdvancedOptions\JAVA_VM
(Be careful not to make changes to any other items in the registry, as one wrong move can lead your computer unable to run.)
Updating Internet Explorer
If you're using Internet Explorer 6 or 7 then you will need to update your browser before installing the official Sun Java VM. You can do this by visiting windows.microsoft.com/en-US/internet-explorer/downloads/ie and selecting the version of Internet Explorer that is most suitable for your operating system and computer.
Simply click the appropriate links and follow the instructions provided for updating your browser – ideally anyone running Internet Explorer 6 (probably on Windows XP) should be upgrading to Internet Explorer 7, while current users of IE7 (typically Windows Vista users) should be upgraded to IE8.
Once the upgrade is complete, you will be ready to install the Sun Java VM!
Installing Sun Java VM
Whether you are installing Sun Java VM as a replacement for the old Microsoft Java Virtual Machine or simply require it on your brand new Windows 7 PC, the process is very simple.
To prepare your Windows computer for Java applications in a virtual machine, you will need to head to www.java.com and select the Free Java Download button. In the next screen, select Agree and Start Free Download to agree to end user license agreement (EULA).
Owners of older machines should be concerned about compatibility. Windows 2000 and XP machines can run the Sun Java VM, with as little as a 166 MHz CPU, 64 MB of RAM and 99 MB of free disk space. Naturally, owners of more modern computers will have no concerns in this area!
All you need to do now is follow the installation steps through to completion (watching out for and preventing the installation of any toolbars or browser enhancements) and a few minutes later Sun Java VM will be installed on your computer. This system auto-updates, too, so you won't need to worry about keeping on top of any changes.
References