Regular users of the Skype chat network will probably be aware that they can use text, voice and video chat to communicate with colleagues, friends and family around the world. There are various advantages to this great system, from the obvious joy of being able to see loved ones on a webcam, to conducting telephone interviews and recording the results or even recording podcasts.
The possibilities for video chat in Skype might seem limited in comparison to those of text or voice, but this couldn't be further from the truth. For instance, while you take advantage of the video chat service, you might utilize a third party tool for adding special effects to Skype, allowing you to liven up any conversation that you might be having.
Several special effects tools are available for use on Windows with Skype, or any other webcam chat software, but certainly the most impressive (based on the fact that it is free) is ManyCam.
Benefits of ManyCam
ManyCam is designed for use with Windows 2000 and later, and offers a degree of fun to webcam chat that other apps for Windows don't. While Mac users have the free CamTwist app, ManyCam is the closest comparable app for Windows, offering you the ability to overlay captions on your webcam feed as well as various fun images and effects.
All of this means that ManyCam can be used beyond Skype; while a webcam chat might be the obvious application, this utility can also be used to enhance video captured with other services, such as Ustream, or even for a clip of yourself that you might opt to upload to YouTube. With picture-in-picture options allowing for some pretty interesting options, ManyCam can act as a virtual TV studio!
Additionally, you can import additional effects from downloaded files and add them to the software using the Add new effect button, which allows you to Browse for and add a new visual effect.
Download and Setup ManyCam
To use the ManyCam utility, you will need to download and install it. The file is available from download.cnet.com/manycam, and once installed the software will intercept the signal from your webcam, apply the selected effects and then feed this through to Skype, allowing you to add any number of interesting effects. You don't need to do anything here, the feed through occurs automatically, although you may need to check in the Skype setup for a new "virtual" webcam, which is the feed created by ManyCam.
The download is just 14.7 MB, so this shouldn't take too long on a broadband connection. Once the file has downloaded, you can double-click to start installation.
Note that during the installation wizard, ManyCam will attempt to install the Ask.com toolbar and set Ask.com as your home page. Look out for this as you may prefer not to add this bloatware to your PC.
Also, watch out for notifications from your firewall software as ManyCam attempts to access your webcam. You may need to permit access to the application.
Adding Basic Graphics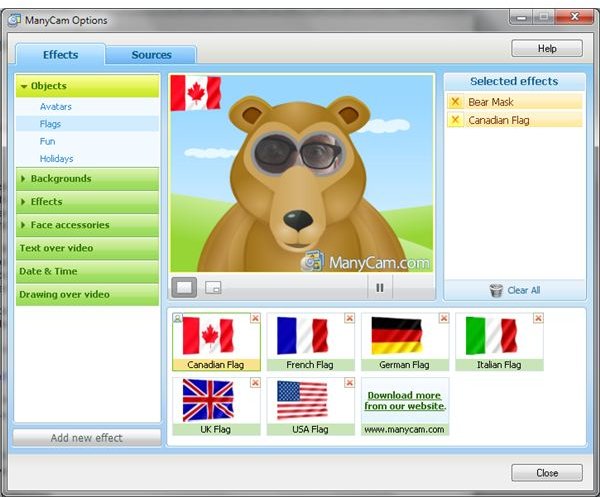 The first thing you will want to do with ManyCam is play around with the features. There is a lot on offer, so we're going to focus on the basic graphics you can add and the impressive CGI backgrounds.
ManyCam's user interface is split into two tabs, Effects and Sources, with a camera preview displayed at all times with a list of currently selected effects listed to the right.
Of the basic graphics, which ManyCam features on the Effects tab, several are available, all grouped by type. For instance, the Objects section expands to allow you to add Avatar masks, Flags, fun stuff such as "be right back" signs and themed holiday graphics. Aside from the avatars (which rely on you positioning your eyes and face in the right place) these elements can be positioned anywhere you like on the camera preview, and must be added and removed one at a time.
The other sections, such as Face accessories, work in the same way, although you can get more impressive results from the Backgrounds and Effects tools.
Create Amazing CGI Special Effects!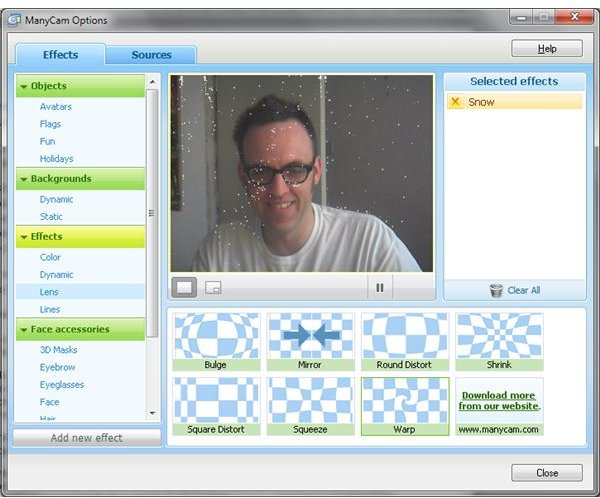 Using the CGI tools that are featured in ManyCam, you can also add impressive special effects to Skype webcam chats.
Particularly impressive are the Backgrounds, where dynamic, animated backgrounds and static backdrops can be added to your video feed. These work by instructing ManyCam to capture the actual background of your room with you temporarily removed from the scene; for the best results, use an equally-lit room with a solid background.
You can then add the backgrounds, such as an animated view of rolling clouds, or static views that make it appear that you are in the tropics!
Similarly, the Effects options allow you to add some impressive video effects, from changing the quality and color of the captured video to adding dynamic effects, like snowfall (pictured). You can also add some interesting lens-based effects, such as mirrors and warps, and many effects from different categories can be combined to give you lots of interesting end results.
As you can see, ManyCam offers a wide selection of visual options to enhance your Skype chats or for use creating vlogs or streams for services, such as Ustream. The software is free and easy to use, and will turn a plain webcam video into a more polished production.
References
Source: Author's own experience.
Screenshots provided by author.