General Info About the Ashampoo Optimizer 8
Regardless of how fast your computer is or how much memory it has, the chances are that sooner or later it will start to slow down if it runs Windows. This is because over time a lot of clutter accumulates in the system making it "heavier" and more demanding in resources. This is why a number of software developers have come up with programs that allow you to lighten it up, efficiently and without any trouble from your part. Among the commercial products out there that are designed for this task, Ashampoo Optimizer 8 certainly stands out, providing a number of functions and an intuitive interface.
This program has been around for a while now and each version of it is richer with optimization and other sub-programs that make you more in control of your system. Running on Windows 7 (both 32 and 64 bit versions), Windows Vista (both 32 and 64 bit versions), as well as on Windows XP, this program requires very few resources (insignificant RAM memory and just 60MB of hard disk space). However, in order to make the best use of it, you need to have administrative rights to your computer when you run it. This software is available in a variety of languages (English, Spanish, German, Brazilian Portuguese, French, Hungarian, Czech, simplified Chinese, Bulgarian, and Ukrainian, among others). In addition, it has a 40-day trial period and it costs $49.99, while it also has a 30-day money back guarantee.
Main Functions of the Program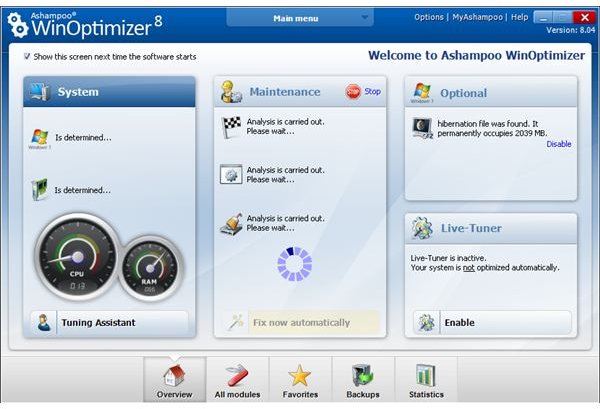 Ashampoo Optimizer 8 has a number of functions, all of which are available to the user with a single click from the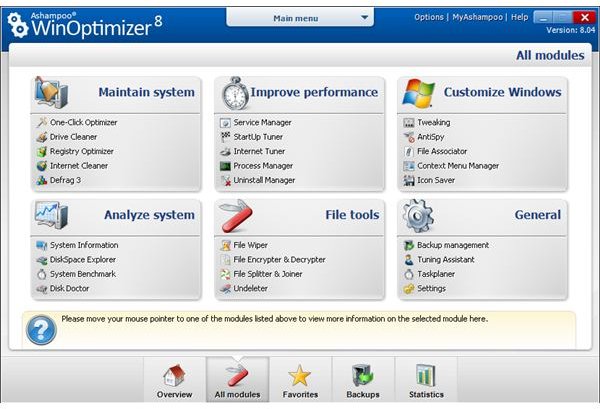 . Though all these options may appear overwhelming at first, if you look closely you can see that they are all neatly grouped and if you hover over one of them you can see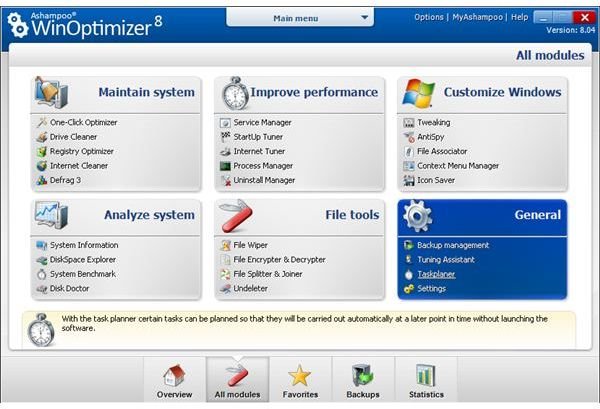 appear to describe what that particular function is about. As you can see from these screenshots, Ashampoo Optimizer 8 has a large variety of functions, ranging from system tweaks (to boost your system's performance by changing some Windows settings), to maintenance modules (e.g. defragment, registry cleaning, etc.) to even specialized file tools (e.g. file undelete, which is a very useful program to have).
What's more, if you change your system using one of the optimization or maintenance functions,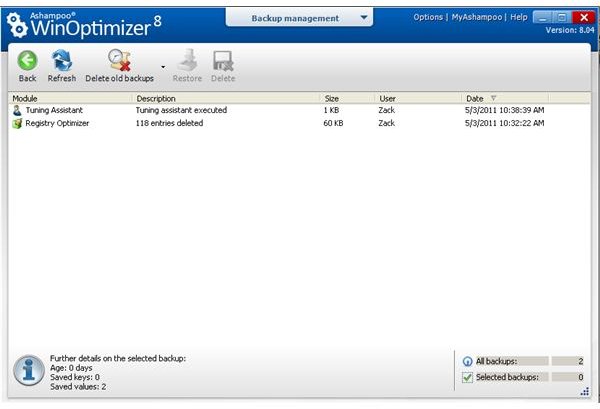 are created automatically so you can always undo any changes you've made. As one would expect, this program has many options so you can customize it significantly, by accessing the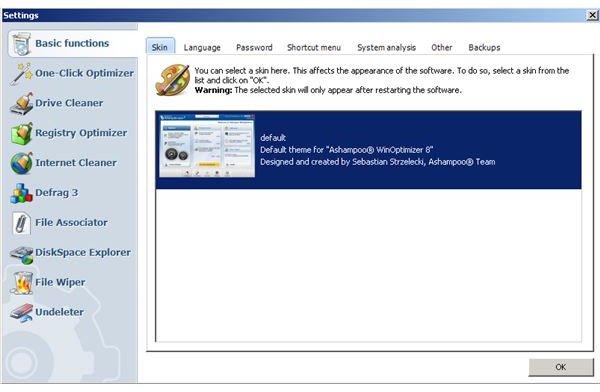 . Another interesting feature is that you can schedule certain tasks for the program to do without having to run it yourself. These tasks are set in the taskplanner module and may be recurrent if you want.
Pros
Ashampoo Optimizer 8 has a number of impressive advantages that make it stand out from other similar programs. As you can see from the screenshots, its graphical user interface is quite effective and user-friendly. In addition, you have the option of 1-click maintenance and 1-click optimization, so that you don't have to spend a lot of time on the program. If you are a novice user and you are not exactly sure on what you can change safely, there is a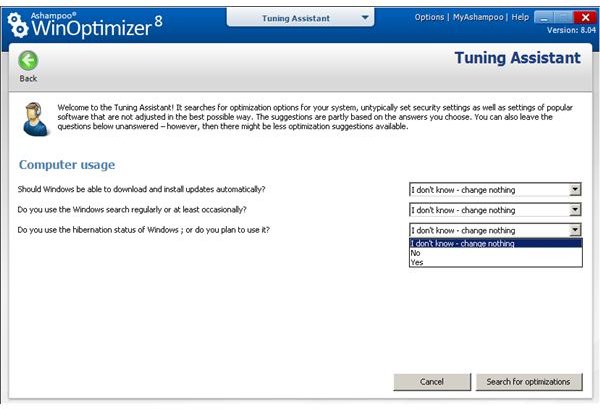 that can make the whole process so much easier for you. Moreover, the program generates reports for the functions it performs (see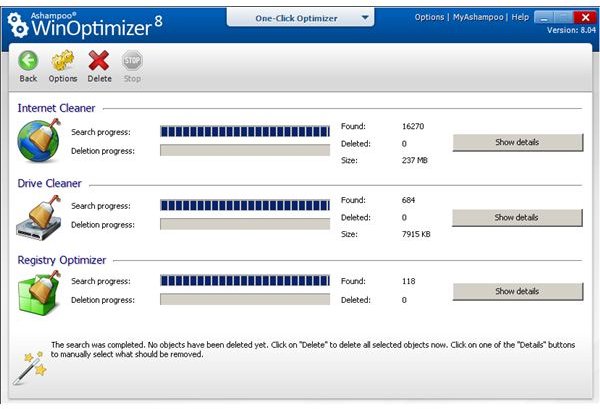 ) so you can have a good idea of what has been altered in your system (something very handy for an advanced user). Furthermore, you can have an overview of the functions performed so far, through the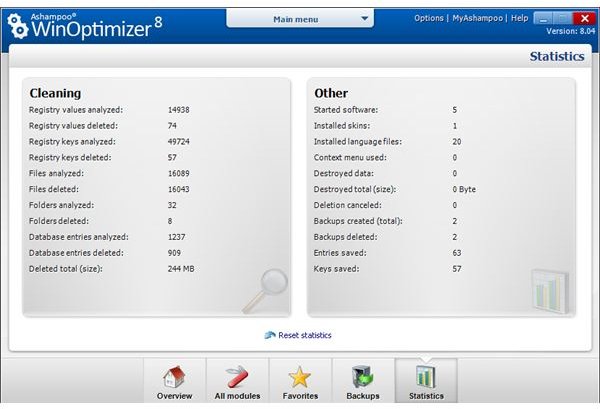 option. Finally, the program is quite easy and straight-forward to use, the installation process is a breeze and it has a very good learning curve.
Cons
Even though this product has a lot of advantages, there are a few things that are missing. For example, it doesn't have a backup or synchronization module, something very useful nowadays. In addition, there is no registry defrag module, which is an essential part in every system optimization/maintenance software. Finally, the price is not so competitive, as you can find another program that can do more or less the same things for less money.
The Verdict
The Ashampoo Optimizer 8 program is a very interesting product. From the research done for this article, along with some personal experience of the author, it is clear that this product is a good alternative, particularly for the novice user. Apart from the good selection of tweaking, cleaning and maintenance modules it has, it also offers some useful extras (File tools section) and a descent help file. Also, the 30-day money back guarantee makes it even more appealing, though it is unlikely that you will want to experiment with other alternatives once you play around with this program a bit. It's probably not a power-user's first choice, but it definitely does what it promises, granting you a faster system and some peace of mind.
Further Reading and References
1. Tolga Balci, "Ashampoo Winoptimizer 6 – Cleaning and Tweaking Windows". An interesting article on a previous version of this software.
2. Official website: https://www.ashampoo.com/en/usd/prq/3206/System_Utilities/Ashampoo-WinOptimizer-8