Is it Still Effective?
Many utilities programs change from year to year; not so much from a change of function, but for the addition of graphics and features or other bells and whistles. If you have inherited a legacy copy of PC Tools Registry Mechanic, you may be scratching your head over what to do with the program. Old Registry Mechanic for PC releases are a great example of this quality; they can provide a cost effective way to get rid of adware, spyware and malware.
General Instructions for Registry Mechanic
PC Tools has recently released their Registry Mechanic 2011 version of the software and it is a very straightforward operation. To run a scan you just go to the interface and select 'Scan Now' or schedule a scan of the registry on the options page. Depending on how long it has been since the last scan, you may want to select this option as the computers resources may be heavily used during the scan; especially if the monitoring function has not been enabled.
Using Registry Mechanic 2007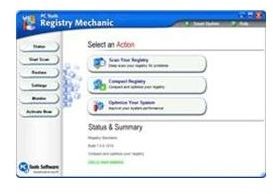 The 2007 version, or 5.2 as it was initially dubbed at its release, is a version that was designed for the older Windows platforms from 95 to XP. It also doesn't give the option of scheduling scans or monitoring the registry for developments that will lead to problems. It was run as a manually initiated tool that would run the scan on the registry and very generically advise where the registry errors impact or originate from.
The graphical user interface or GUI is not as slick or advanced as it became in later releases, but it effectively guides the user through the options it offers. Unlike 2011 PC Registry Mechanic, it only offers the repair, compaction and optimization of the registry. Later editions allow you to optimize Windows services and Update processes.
Image Credit: wareseeker.com
Using Registry Mechanic 2009
The 2009 version had added the feature of 'shredding' files, and a way of actually 'bleaching' selected files to avoid recovery from all but the most sophisticated computer forensics. The advantages of this are clear, protection from hackers and assured privacy if you decide to donate or recycle your computer. If you are looking for this kind of tool and you are still running XP or Vista, you may desire to find a copy of the program.
Other than that, it will run basically the same as the 2011 version; the graphical interface is only slightly different, and it has the same features and tools that one would expect to find in a program of this type. Like the newer one, it also makes logs for restoration of entries should they be deleted in error, and allows the user to customize their startup to minimize the time and memory required to get the machine up to speed at boot up.
Older Registry Mechanic for PC programs all perform the same function in their more basic design; the detection and repair of registry entries. Later versions are optimized for the newer operating systems, but since XP and Vista are still running on a significant number of computers, older versions of the software should work very well and you may be able to pick up a license from a private party at little to no cost.
References:
wareseeker.com, https://wareseeker.com/download/registry-mechanic-2007-5.2.rar/411697
pctools.com, https://www.pctools.com/registry-mechanic/trial/d/2/
amazon.co.uk, https://www.amazon.co.uk/PC-Tools-Registry-Mechanic-2009/dp/B001E5CFV2
whatsabyte.com, https://www.whatsabyte.com/P1/registry_mechanic.htm
helpspeedupmycomputer.com, https://www.helpspeedupmycomputer.com/utility-software-reviews/registry-mechanic-review/