Not all free email programs are compatible with Windows 7 64-bit. For this article, I selected the top 10 email programs for Windows 7. These top 10 free email programs for Windows are compatible with the 64 bit versions of Windows and are absolutely free. Most of these are famous and you might already know these programs for free email for Win 7, 64 bit – included in my top 10 list. The list is based on the number of positive reviews that I came across on the Internet and also on the number of downloads from CNET.com.
Windows Live Mail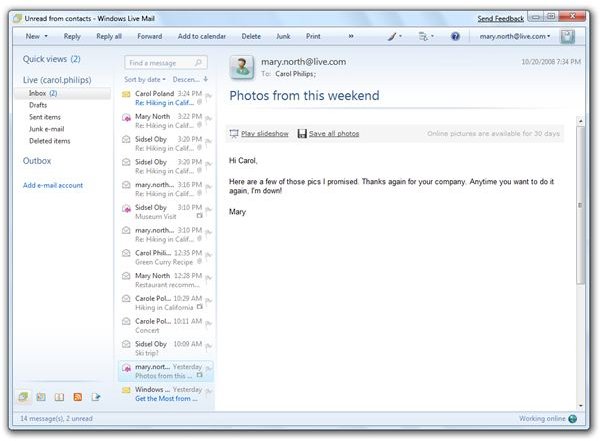 I am placing Windows Live Mail at the first rank in this list of top ten free email programs for Windows 7 as it is from Microsoft and goes well with Windows 64 bit. Setting up an email account is simple in Windows Live Mail. All you have to do is to submit your email ID and password while the wizard searches for settings. You can set up multiple accounts. You cannot merge the accounts into a single inbox, though (I could not. Please share if you know a method). Each account will have its own inbox.
In addition to email facilities, you get a calendar feature that lets you add events and be reminded on due date, due time. Among other notable features is the integration of SkyDrive's My Pictures folder. You can send a photo email so that the images you share are automatically uploaded and displayed on Windows SkyDrive with the privacy settings you added while sending the photo email. Windows Live Mail is free email program for Win 7, 64 bit and for 32 bit.
Image Credit: https://arstechnica.com/microsoft/news/2008/10/understanding-windows-live-essentials-in-windows-7.ars
Mozilla Thunderbird
The best thing about Mozilla Thunderbird is that it comes with an attachment reminder. The attachment reminder is an add-on that searches for keywords similar to 'attachment', 'file' etc and lets you know so that you do not forget attaching the files. Other than this, it has spell check similar to Outlook. Speaking of Outlook, the Mozilla Thunderbird – one of the free email programs for Windows 7, 64 bit – also comes with a Migration Assistant that lets you import mail, contact, and events from MS Outlook.
Creating an account is very simple. All you need is to provide your email ID and password. The email wizard will determine the settings for the email service provider and set up the account for you. Thunderbird also includes an address book where you can add several details about each contact created manually or added by right clicking on received mails.
Another interesting feature of Mozilla Thunderbird is the ability to create filters for emails. Filters are an easy and fast way to organize and find emails easily.
Eudora OSE
Eudora is considered base for Mozilla Thunderbird and is an open source email program. This free email for Windows 7 also supports the 64 bit versions. It also runs on the other 64 bit versions of Windows, including XP. Other than Windows, the Eudora open source edition also runs on Mac and Linux making it one of the best, versatile clients for email.
The most interesting feature of Eudora is it's easy-to-use interface that can be further customized to suit your needs. Another interesting feature of Eudora is the Lookup feature. This allows you to look up synonyms or antonyms for any word while you are reading or composing a message.
Opera – Free Email for Win 7, 64 Bit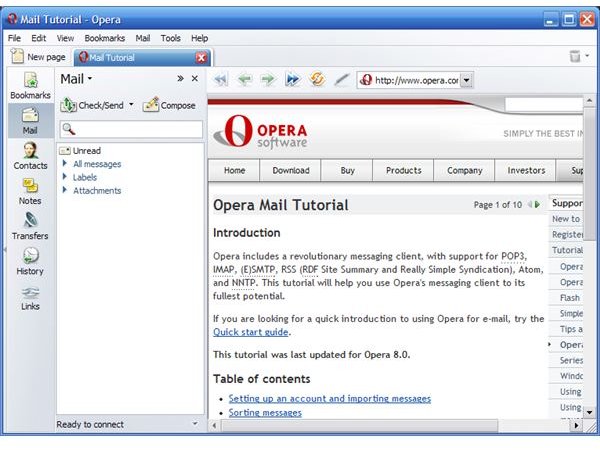 Opera is known more for its Internet browser. The browser also contains an email add-on. This means your Opera browser can turn into an integrated email client that lets you view, reply and forward email. You can add one or more of your email accounts to the Opera Email Client to view email on the go.
Opera is probably the lightest existing email client. It does not require much space on hard disk. It does not need much RAM either. This does not mean that Opera Email Client won't offer you facilities such as searching etc. It does have a great search system that allows you to quickly find one or more messages.
Screenshot by Author
SeaMonkey
SeaMonkey boasts of being an all in one Internet Suite. I am listing it in top 10 free email programs for Windows because it contains a browser, an email client and a newsgroup client. That is one step ahead of Internet Explorer as the latter does not include an email client. SeaMonkey also includes an HTML editor, IRC chat and web development tools. You can find the SeaMonkey almost similar to Mozilla Firefox as most of the features – interface, spell check, smart location bar, tabbed browsing – are common to both.
Pegasus Mail
Another free email for Win 7, 64 bit, the Pegasus Mail client is also known as Pmail. It can be used on both standalone computers and networks. It supports both individual operations and multiple users. One can also set up Pmail on a Windows 7 network easily. The Pegasus mail is feature rich and offers an interface in several languages including French and German, security features, easy customization and more. The interface is simple and supports multiple panes for viewing, editing, and forwarding/replying email.
IncrediMail
Incredimail is easy to use, feature rich, yet free to use email program for Win 7, 64 bit. You can download and install IncrediMail without paying anything. The email client allows you to perform some additional tasks in addition to simply receiving, replying, composing, and forwarding mails. It contains features that allow you to insert smileys (emoticons) into the email. It also has a feature that helps you create simple animations.
Foxmail
While allowing creation and usage of multiple mail boxes, Foxmail also features mailbox encryption. It includes an Express Send feature that allows you to send the email directly to the recipient without the mail having to go through the ISP's servers. The only problem with Foxmail is that the original language is Chinese. You can change this during installation but then you won't be able to view emails in plain text. You will need to switch to HTML mode to be able to view the "plain text" mails.
SendBlaster Bulk Emailer
Sendblaster is good for people involved in email campaigns and those who send out newsletters daily. The free email for Win 7, 64 bit allows you to send 100 emails per day. The paid version of Sendblaster allows unlimited emails. You can use the free version of Sendblaster to see if it helps you. Once you are satisfied, you may move on to the paid version if you need to send more mails per day.
Group Mail Send Engine
The Group Mail Send Engine is similar to SendBlaster except that the number of recipients is limited to 50 per day. The paid version allows you to send unlimited mail.
This concludes my list of top ten free email programs for Windows 7. If you know any other free email for Win 7, 64 bit, please share with others using the comment boxes.