Windows Live Photo Gallery is a part of the Windows Live software that comes included with Windows 7. It is image storage software that provides image archiving options, as well as a few image editing and presentation options for your favourite photos. To get started with Windows Live Photo Gallery go to the Start Menu, all programs, and then near the bottom of the sub-folders lays the Windows Live folder. Select the folder and you can then open Windows Live Photo Gallery.
Getting Started
To get started with Windows Live Gallery you first need some photos to work with. As such, put some onto your PC and then save them to the Windows 7 pictures folder. This is the best place as Windows Live Photo Gallery will then quickly find them. In Windows Live Gallery the all photos and videos folder is displayed at the top left, along with sub-folders such as My Pictures. Select the relevant folder to display its contents.
Thumbnails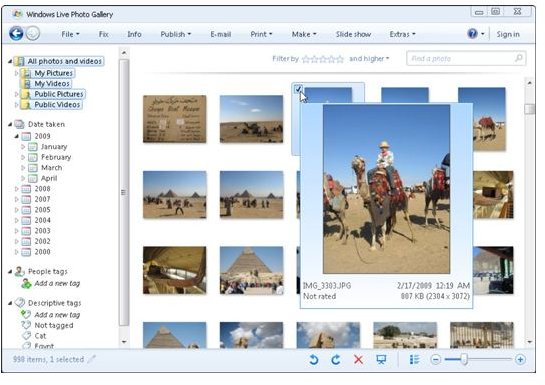 When you have a few images in your pictures folder then they will be displayed. Leave your mouse over an image for a few moments and an enlarged thumb-nail of the image will be displayed. This provides a good preview of the image. If you quickly select another nearby image then the thumbnail will more quickly appear.
Zoom in and Out
There is a handy zoom in and out option included in the bottom right. Move to left to zoom out so that more images are displayed. However, zooming in more will also display any ratings given.
Tagging Images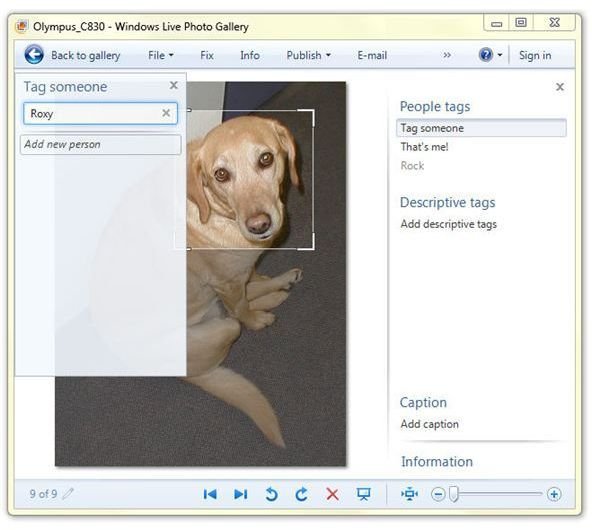 Tags are perhaps the best option to be included with Windows Live Photo Gallery and should not be ignored. Tags allow for descriptions to be added to each image. If you have a variety of images with a similar subject then the same tags can be added to them. When a tag groups images in this way it can be great tool for searching. Simply add the tag to the find photo box (in the top right) and all the images with matching tags will be found. Windows Live Gallery also has a more specific people tag for portraits. Tagging people now has face recognition which assists with tagging. If one person is tagged often, then Windows Live Gallery may recognize this and suggest the relevant tag to an untagged image with that person included. To add tags, just select the image and then the info option. Here, you can then add tags by selecting add tag option.
Rating and Filtering
You can also rate images in Windows Live Photo Gallery with a scale from 1 – 5 stars. Select the image, and then info. Here, by rating you can select an appropriate star. Rate your own photos, and then you can also find them more quickly with the filtering options just beneath the main menus. Arrange images have a few options for this and by selecting rating they can be arranged according to rating. To find your best images, then just set the filter to include 5 star images only.
Don't Forget the Slide Shows!
Windows Live Photo Galley also has presentation options. Slide shows can be great for photo displays. To get a presentation started simply select the photos to be included by holding down the ctrl key and then select with mouse. Hereafter, click the slide-show option at the top. A slide show will then begin for the selected images. Do not forget that you can change the slide show themes with the themes option which includes a number of themes such as travel, stack, and spin.
Image Editing
Windows Live Photo Gallery may not quite be Adobe Photoshop when it comes to image editing, but it still has a few options for this. Select the auto adjust for an image editing short-cut that will apply a few required fixes. Tools for cropping and straightening photos, plus a few black and white effects are also good options for editing.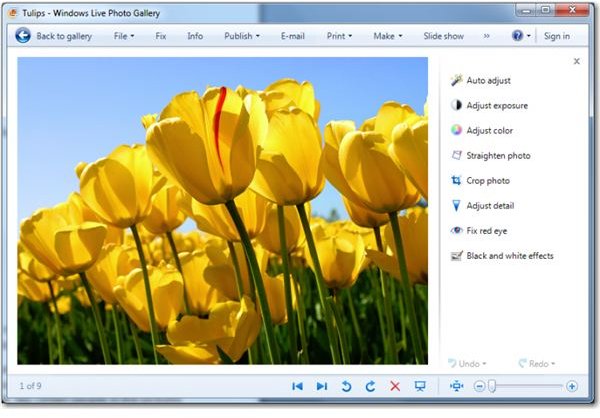 So, these are a few guidelines and tips to get started with Windows Live Photo Gallery. Remember to tag the images, and the slide-shows are also a good option for top rated images. However, for more advanced image editing another software package may be required. For further details, why not consider checking this Windows Live Photo Gallery review.