Fake Windows Essentials – An Introduction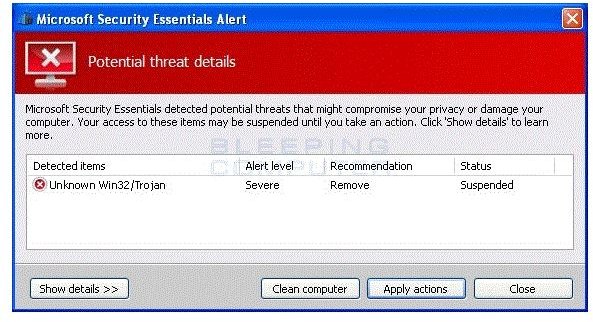 Fake Windows Essentials uses the name of Microsoft Security Essentials to trick people into downloading the software. The Fake Windows Essentials is actually a rogueware that presents false alerts to show that your computer is infected. The intention of this rogueware is to scare people and thereby force them into buying the good-for-nothing software.
Please be reminded that the original Microsoft Security Essentials for Windows operating system is totally free of cost. All you need is genuine Windows installed on your computer to download, install and use Microsoft Security Essentials. It checks if the operating system is genuine while installing and will not install if your copy of Windows does not pass the genuine test.
On the contrary, the fake Windows Essentials will install even on pirated versions of Windows. Other than the name, there is nothing common between the rogueware and original MSE. Even the interface is different (though it carries the symbol of original Microsoft Security Essentials). For people who have not used or looked at the interface of Microsoft Security Essentials, the fake Windows Essentials offers an interface that looks sophisticated and creates an impression as if it is software created by Microsoft.
The fake Windows Security Essentials would not do anything in reality. It is not an antivirus either. It won't harm your computer though. It will just irritate you by presenting fake screens every now and then saying that your computer is infected and that you need to buy software to clean the computer. Even if you go ahead and buy the software, it will not clean your computer. If you get such prompts after installing Security Essentials, know that you have installed the fake Microsoft Security Essentials.
Note: If you want to install and use the original Microsoft Security Essentials, always download MSE from Microsoft website. If you have already installed the fake Windows Essentials, the following section helps you get rid of the software.
Removing the Fake Windows Essentials
You will not be able to remove the fake Windows Essentials using Add/Remove Programs in Control Panel. Additionally, the rogueware may not allow you to download any other antimalware as long as it is active.
A few software programs can help you remove the fake Windows Essentials. One such software is Malwarebytes. It is shareware so you should be able to use it free for few days. However, to download Malwarebytes, first you need to kill the process initiated by the fake Windows Essentials.
To kill the processes initiated by the fake Security Essentials, download R-Kill, install it and run it to kill all malicious processes. Once this is done, you should be able to download Malwarebytes. If not, you have to download it using another computer and later copy the installation file to the infected computer using a flash drive or a CD.
Close all windows, including this one and run the Malwarebytes. Select Perform Full Scan and click on Scan. After the scan is finished, you will get a results page. Click on Show Results to view the infections. In the window that opens, select all items and click Remove Selected.
This will help you get rid of fake Windows Essentials. If you need further details, or if the above doesn't help, please feel free to ask assistance using the comments section.