InterfaceLIFT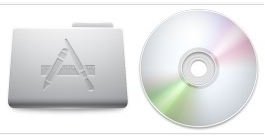 InterfaceLIFT is one of the most popular sites to download wallpapers, but it also carries icons. While I love the wallpaper section, I find myself disappointed with the search parameters when looking for Apple Mac icons.
The wallpaper section lets you search by category, which I would have liked to have seen in the icons section. What I got instead was a list of icons that are compatible with OS X. If you're not looking for anything specific, you will have fun scrolling through the pages.
I found plenty of standard iMac and Mac computer icons on InterfaceLIFT. Since I like icons that have personality, I chose to move forward until I found something that jumped out and said hello to me. The Vintage Apples icon set did just that.
I didn't find too many after that, but I did find an aluminum icon set that will compliment any wallpaper that you choose. The image shown in this section is part of the icon set.
Source: InterfaceLIFT
DeviantART
DeviantART carries all kinds of Mac and Apple icons. I found plenty of icons that replicated Macs, their peripherals, and the Adobe software. I also found some icons that I thought were cool and original.
The Takeout Chinese icon is the first example that I found. Up until this point, all the icons were pretty much standard, except for a few hairy Macs or Macs wearing black leather jackets. It wasn't the red and white that jumped out at me, but the Apple logo on the Chinese takeout box.
The Apple Armada Icons set by Chris Langle is an excellent collection of every mac device that is on the market today. You can download one item in the collection or the whole set.
Source: DeviantART
IconFinder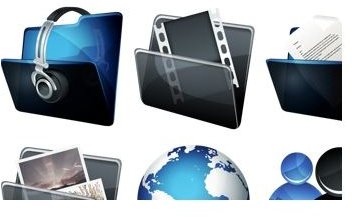 IconFinder.com is a search engine for icons. While I found plenty of common Apple Mac icons, I found several that I thought were creative. The AquaBlend icon set by Laurent Baumann caught my attention when I saw a file folder with a Marlboro pack leaning against it. It was one of those curiosity moments.
The Hydropro icons are a sleek combination of black, blue, and gray. My favorite from IconFinder is the iSuite icons set. The designer did an excellent job with the color combination and the vectors.
To download these or other icon sets, visit the designer's website.
Source: IconFinder
Conclusion
I have provided a list of resources that will help you find Apple Mac icons. Out of all three sites, I like IconFinder the best because it directs me to popular sites like DeviantART as well as the artists' websites. DeviantART is my second favorite resource because it is user friendly and I can almost always find what I'm looking for. InterfaceLIFT is another good resource.