Why Print to a Central Location?
Having a single printer on your network handle all your printing needs has several advantages, the biggest being that you only need to purchase one printer instead of multiple printers. While printing to a single location can save you money and administration headaches you have to keep in mind that many users printing to the same printer can cause larger print queues resulting in delays in printing. In general these delays will be short and unnoticed by your users. By the time a user prints a document and then travels to the location of the printer their print job will, in most cases, be finished or in progress.
What You Will Need
There are a few ways to setup a centeralized print location that can be shared by all users on your network. The most common way is to purchases a network (Wi-Fi) capable printer and set it up on your network. Basic network printers have become cheap in recent years so there is really no reason to not go this route in a small home or small office environment. You simply purchase the printer, connect it to your network via Wi-Fi (similar to network attached storage) and then your users connect to the printer. However, this is a simplified way to print and should your printing needs be more robust you will need to setup Mac OS X (desktop or server) so it can handle your print queues.
If you decide to purchase and setup a netowrk capable printer, the printer itself will be your only printing hardware, keeping your costs low. If you decide you need a more complex setup you'll want the following.
A printer connected to a desktop or server PC.
A copy of Mac OS X to run on the PC (desktop or server edition).
A user to administer the print queue should problems arise.
Once you have this hardware and software in place you can move on to setting up the Mac OS X print server or the Mac OS X system that you will attach and share the printer from.
The Fun Part, Basic Network Print Server Setup
If you are going to have hundreds or thousands of users printing to one centralized location you will need to dedicate a PC to run a Mac OS X (server edition) print server. Setting up a dedicated Mac OS X server allows you to have greater control over the print queue, manage print permissions, and add encryption tp documents sent for printing. However, if your printing needs are a little more modest a Mac OS X desktop system, even one that one of your users is using, will do the job just fine.
In the case of needing a dedicated Mac OS X Server setup please consult the Mac OS X Print Server Administration Guide as the requirements and setup process are beyond the scope of this article.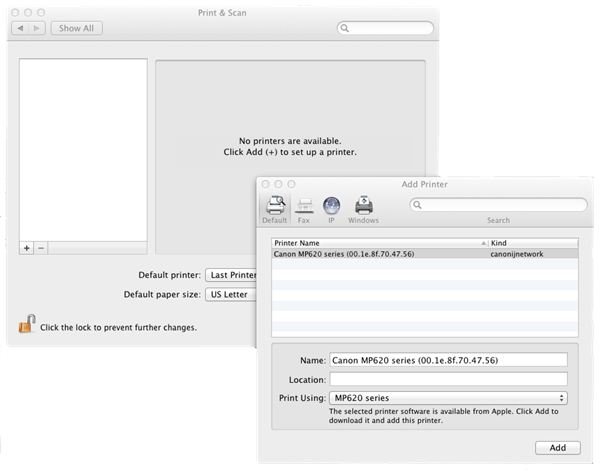 Sharing A Printer Connected to Mac OS X Via USB
The first step in this process is to physically connect your printer to a Mac OS X system and install any needed drivers. Most printers in this situation will require a USB connection and once plugged in and turned on will simply require a driver (many times included with or available from Apple's Software Update). Please consult your printer documentation (or website) when installing the driver(s).
Next we will have to configure printer sharing on Mac OS X through the System Preferences pane. Click the Print & Scan icon and the Mac OS X printer and scanner setup pane will be displayed. On the preference pane check "Share this printer on the network" and then click "Sharing Preferences…" to designate who can print to this printer. That's all there is to it! Now it's time to setup our clients to print to this shared printer.
I Want to Print! Client Setup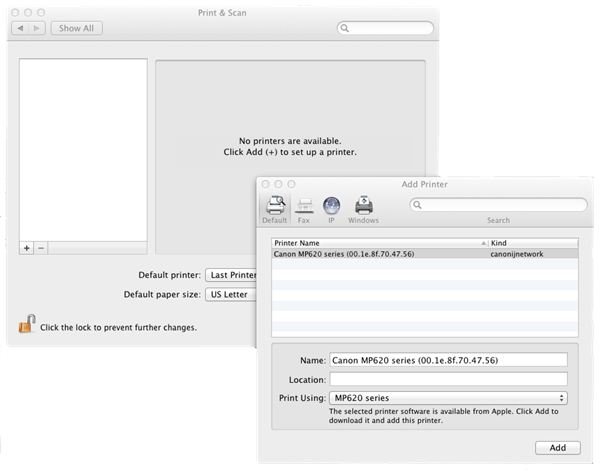 The steps to setup a shared network printer on Mac OS X once the printer is configured and shared properly are basic. Your first step will be to open System Preferences and locate the Print & Scan icon. Click this icon to open the printer and scanner setup preference pane, with this open click the ~ezentity_quot+ezentity_quot~ sign in the left hand part of the preference pane. This will open the "Add Printer" preference pane where your shared network printer should be detected and listed. Highlight the printer you would like to use and click "Add", this will install the needed drivers and you're done. You can now print to this shared printer on Mac OS X!
If you have any trouble setting up your shared printer you will need to contact your network administrator and have them double-check whether your user account has permission to print over the network.
References