Quick! Tell Me, Can iTunes Flip Album Art Like FrontRow?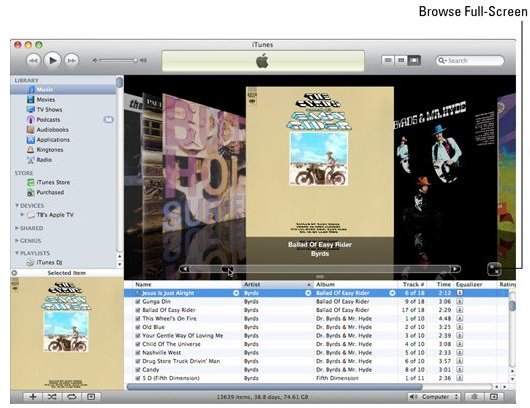 For those of you who are all about shooting straight, the quick answer to whether iTunes can flip album art like Front Row problem, I am sad to report that the answer is no, it can't. Infact, with the way in which Apple has neglected to do any extra work on the Front Row app for over a year I don't think you should be expecting a feature like this to make a transition over to iTunes unless they decide to merge Front Row and iTunes into one — the things that we all hope iTunes 11 will have…
So why would anyone want this feature that is seemingly pointless to the untrained eye? There is a big reason and even though it isn't the only one that people might have for looking to get this feature in the new iTunes, I must say that it looks cool! That is why I want it and probably you want it for your Mac as well.
What is in Second Place?
However, if your'e willing to settle in for second place then there are definitely a number of options that are available to you. The first is the one that Apple has provided in their Tiger installation which is the CoverFlow mode which displays all your album art in a pretty interesting way. There are no flippy animations about when you are using CoverFlow mode atleast none that are triggered automatically.
What you have to do is click on an album and then it will flip over revealing a list of all the tracks that are present in that specific album. Pretty nifty but not as cool as automatically flipping album cover art is it?
What is Behind Door Number 2?
Well, here's a chance to have a look at what is behind door number two. This is another option that is available from Apple themselves which will let you have all the automated action that is available in Front Row. Head over to the Desktop & Screen Saver tab in your System Preferences and have a look at the iTunes Artwork Screen Saver.
Test it out by clicking on the Test button in the lower right corner of the screen and voila! Your favorite feature from Front Row is back and it's done up in the best way possible this time around because you can enjoy it whole your computer is password protected in the background which helps you save it from prying eyes at your birthday bash!
Plex to the Rescue
If you've still got an appetite for self-flipping albums then you should get your hands on the Plex Media Center app for OS X available here, but it is probably going to be overkill for most of the folks out there. If you'd like to display your album art on your desktop, have a look at this article which will help you display album art for you on your desktop and another one here about using visualizers for iTunes to enhance your music playing experience.
Image courtesy: dummies.com