Introduction
Linux offers all the basic printing solutions out of the box. Many printers are properly recognized and set up, allowing the user to get up and running in no time. However, before making a printer purchase, I always recommend to make a quick search on the Internet and see if the printer that you are considering to buy is properly supported under Linux. For the rest of this article, I will assume that your printer is supported without any problems.
Inkblot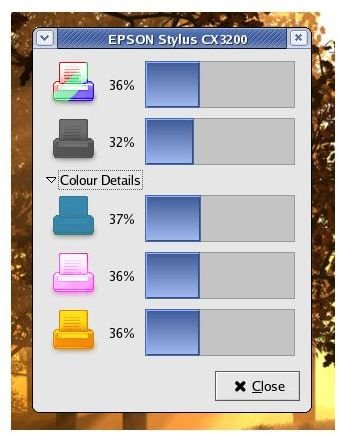 Inkblot is what you will possibly miss from Windows systems. It reports the level of the printing ink remaining in the cartridges. It uses the libinklevel library to check the amount in the cartridges and when information is available, it shows the ink levels on different color cartridges. After the installation, it sits in the notification area and adds itself to the startup.
Kbarcode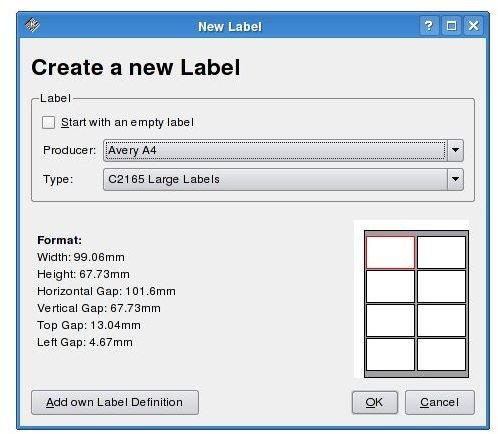 Don't let Kbarcode's name fool you, it is not only for printing barcodes. The application lets you print barcodes, labels and even business cards. It supports images as well as formatted text. Kbarcode has a What-you-see-is-what-you-get (WYSIWYG) interface for designing your barcodes and labels. If you are new to the program, you can switch to the wizard and follow the steps or if you wish you can directly switch to the WYSIWYG editor to start with your own design. You can import files from SQL databases, CSV files, or from your KDE Address Book, as well as batch process your barcodes and labels.
Photoprint
Photoprint, as the name suggests, is an application designed specifically for printing photos from your Linux system. It lets you to print any number of photographs (defined in rows and columns), create posters, split your photos over several pages, crop images to fit defined sizes, apply border effects, and apply basic editing.
Kover
If you want to print CD/DVD covers from your Linux distribution, Kover is the program that you will want on your computer. You can read our extensive review of Kover here.
Conclusion
Linux offers a good toolkit for your printing needs. Whether it is a professional application to print labels or barcodes, whether it is a photo printing application for your personal entertainment, there is a program for you. All the applications that we looked at in the article are available from almost all distributions' repositories, which you can install easily from your package manager.