Introduction
When our Managing Editor came up with the idea of trying to make Linux look like Vista, it filled me with trepidation, but in an inquisitive way. So we agreed that it was worth giving a shot. What transpired took me a couple of days to figure out – options, possibilities, configuration and security issues being just the beginning. What follows is how it all worked out and explains why Neil and I had pretty much the same opening and closing thoughts.
Making something look like another is called "theming" or "skinning" in computer jargon. If you want to go all the way to theming, I must say that it is not as simple as changing Window borders or Menus. You have to consider everything from the icon set to the placement of menus, from window borders to menu backgrounds. If you fail to implement any single component as it should be, then your desktop will be inconsistent at best, garbled and unusable at worst.
Notes:
Many of the themes for making Linux look like Vista take on the Gnome interface and I personally do not recommend going with KDE because the current KDE 4.x series are still having stability issues. So indeed the best place to start is with a Gnome-look.
Please note that we will be doing some tweaking here that has the potential to ruin your desktop environment with a wrong choice. So please proceed at your own risk.
Fonts
In Windows Vista and Windows 7, Microsoft uses their own Segoe UI fonts as they do with all other products. Segoe UI fonts are not available for free download. Moreover, Microsoft's A-Team (which Long Zehng has put beautifully and humorously in his blog) is on the lookout for such infringement, and they ask website owners to remove any such links (otherwise they will take legal action.) I might have preferred to go underground to find the fonts, but I always stay within the legal boundaries and this is what I recommend. Unfortunately I have still started with a minus 1 in my evaluation because the fonts are not available. Alas, needing something at least I can use the DejaVu Sans fonts, which are free (as in speech) and without any problems, even if they have nothing to do with Segoe UI.
Window Borders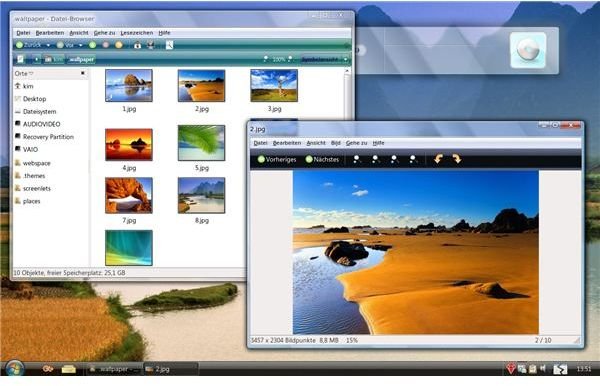 Then I thought that I would tackle window borders. I wanted to go with something stable and something that has the Aero look. To get this transparency you have to enable Compiz. Personally I am not using the Compiz extensions because I do not want to dedicate some of my system resources to graphical assortments, although I have a graphics card and an overall system capable of doing this. Anyway, if you prefer you can go for an Aero-clone 1.1 download. But take the following into consideration:
The theme is 73 % good, so there is a 27% chance that you might not get what you wanted.
The theme uses Compiz/Beryl so you will have to dedicate some system resources to achieve this look.

If you are successful (and lucky) you will see windows similar to the screenshot above (courtesy of the developer kimmik on Gnome-look.) As I have just said, subtract the fonts from the screenshot.
Personally, I did not go with the theme and installed Vista Ultimate Metacity, which worked better, more consistently, and consumed no additional resources. There are also transparent Window Borders with the Gnome-look, which you may want to take a look at, but they could potentially conflict with the icon sets and/or the controls. This is the best one that I could find.
Icon Set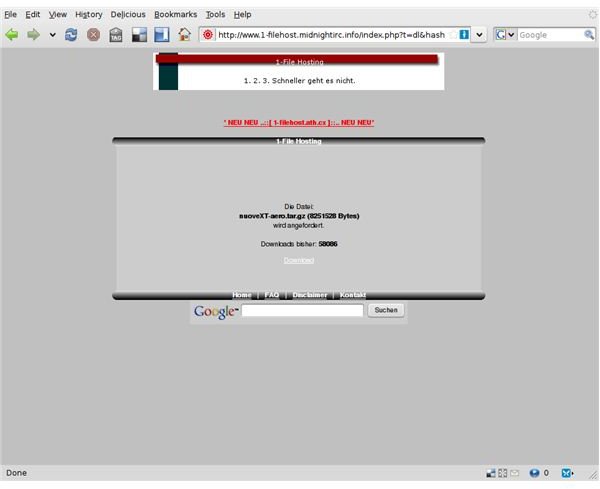 Vista has its own icon set and objectively I have to admit that the set is beautiful. In this regard I found out that there is a Nuovext icon set available. The download link took me to the 1-Filehost website, where I was greeted with an adult website advertisement. I wanted to give the website a second chance, closed the ad and waited for the counter to become zero to obtain the download link. The link showed me a filesize of 8251528 bytes, which I would accept as being a normal for an icon set. I clicked on the download link and chose the download location and the file was immediately downloaded.
This was a surprise, because the download finished before the Firefox's Downloads window appeared! Looking at the download location I saw that what was actually downloaded was 292 bytes. "Thanks" I thought and as a prudent user, I opened a terminal window, changed to my Desktop and looked at the downloaded file with file nuoveXT-aero.tar.gz command. I was prepared for the outcome: it was a text file with the contents as follows:
<br /><b>Warning</b>: readfile(files/Mu17auig4JHE3Npe6vNhf3wl92qJdwuj.yup) [<a href='function.readfile'>function.readfile</a>]: failed to open stream: No such file or directory in <b>/srv/www/vhosts/midnightirc.info/subdomains/www.1-filehost/httpdocs/index.php</b> on line <b>166</b><br />
What those lines tell me is that actually the file is not on the host anymore. But considering the file hoster with the adult ad and/or the server is tweaked by some bad guys, this could easily be a malware. Thankfully I am not using Windows – except in a VMWare Virtual Machine – otherwise a simple double-click might have my computer taken over.
Then I told to myself: "I am using Linux and there is a very beautiful icon set for KDE, named Oxygen. Why am I not going with that?" So I downloaded and installed the set from the Synaptic Package Manager (kde-icons-oxygen and oxygen-cursor-theme.)
The Remaining Part (If Any)
So no real luck with the fonts or transparent window borders (the Compiz/Beryl theme crashed unexpectedly time to time again.) So I disabled it to solve the problem and happily concluded by uninstalling the theme and the icon set. I then shot my last bullet at the controls!
I wanted the Gnome-look and ran into escortgoj's Gotchione style. It came somewhere near to what I had in mind and so I downloaded and installed it. I have to say that it really did fit and worked a charm without any resource usage at all.
I also did try to change the main menu icon to look like Vista's Orb. This trial ended very quickly when I found out that there is no such thing and I had to install something as a Gnome desklet. Thus, when I pushed the Orb-looking desklet it would open the main menu, and the opened menu would be the default Gnome menu, however it wasn't remotely close to looking like Vista. As you would expect, it ended without even being downloaded to my computer.
Conclusion
Now on Ubuntu 8.10 I have the following installed: Vista Ultimate Theme, customized to run Gotchione controls and the KDE Oxygen icon set. It works very well, is stable and consumes no additional resources.
Running a Vista theme is a nice idea theoretically, but you have to be very lucky to experience it practically. Even a small search on the Gnome-look website with a "Vista" keyword search returns results that have "broken" in their titles. So, I cannot recommend you go with them because the odds are very high that they will destabilize your desktop.