Images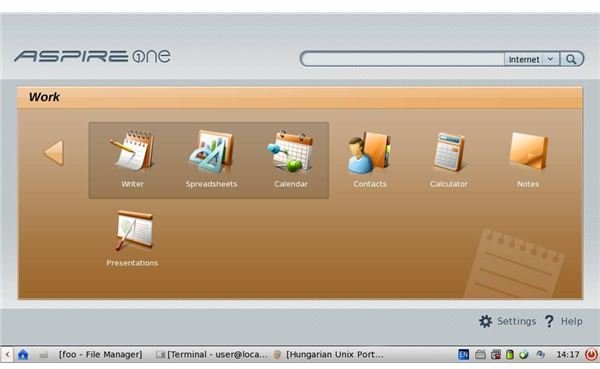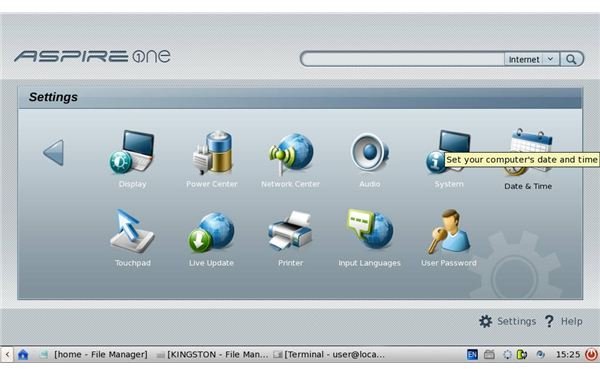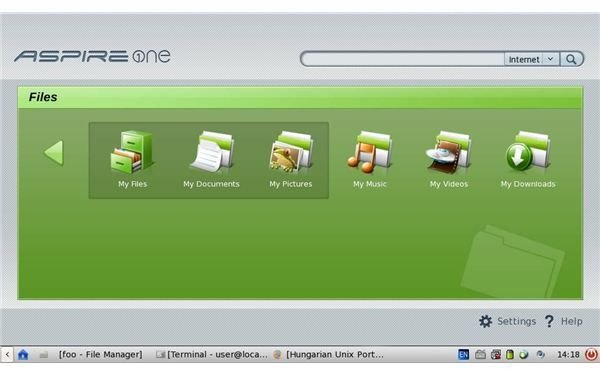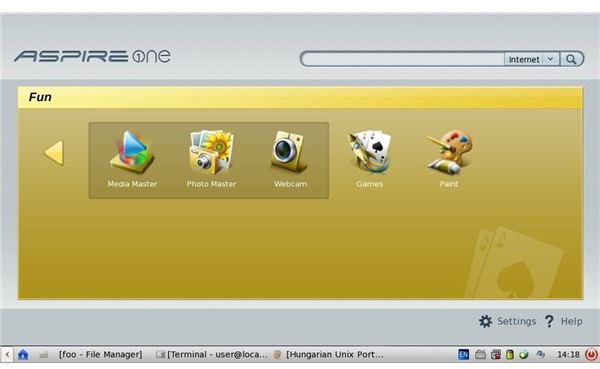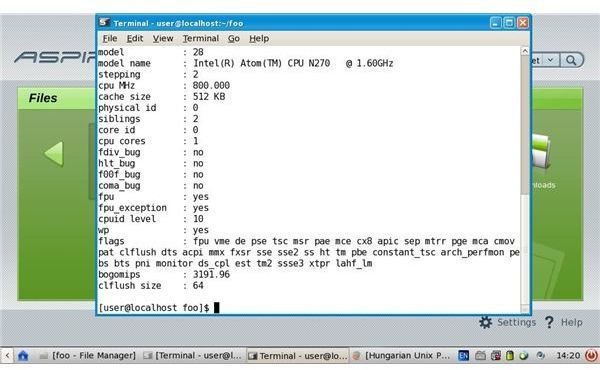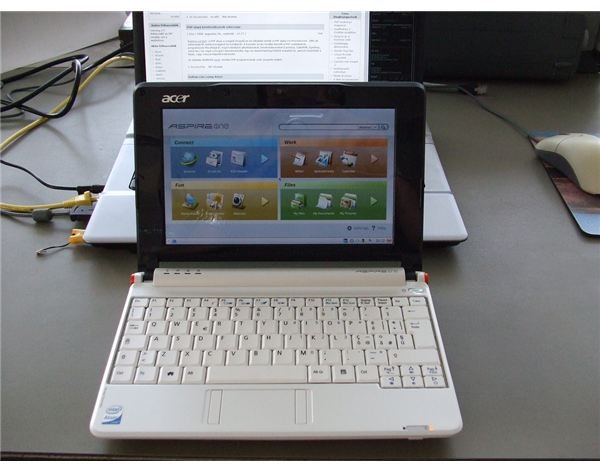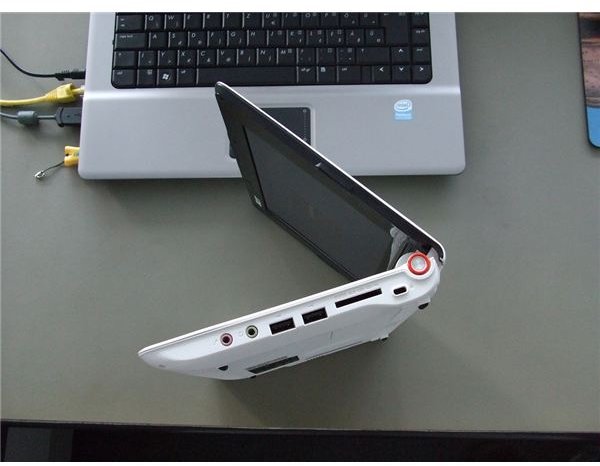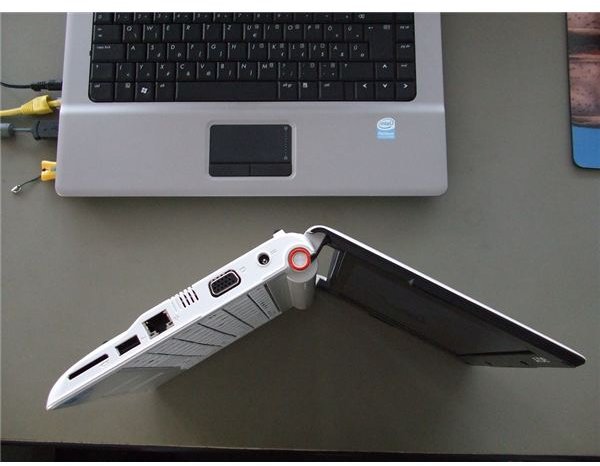 Introduction
For fear of being limited by the size and hardware, I have doggedly resisted the urge to buy a Netbook. However, recently I had the chance to use and review the wonderful Acer Apire One Netbook.Acer Aspire One.
Specifications:
1.6GHz N270 Intel Atom Processor
512MB DDR2 533MHz
8.9" 1024 x 600 WSVGA glossy LED backlit display
8GB Solid State Storage (with SDHC storage expansion slot)
802.11b/g Atheros Wireless
3-Cell 23Wh battery
Size: 9.75" x 6.625" x 1.28"Weight: 2lb 5.0oz
First Impressions
Obviously for £200 ($365.94 US), I was expecting everything to be encased in plastic. That plastic is not too brittle or too thin, and the quality of the enclosure and the rest of the machine is perfect. The case itself, and more importantly the keyboard, feel very solid. The hinge for the screen looks even more robust than the hinges Apple uses on their current MacBook range, making me confident that I could take this with me on a train or to university without fear of it being damaged.
So Light!
Folded and tucked away in the supplied slipcase, the Aspire One is about the same size as a large paperback book, though it weighs much less. Compared to carrying a 15.4" laptop around all day, the Aspire One is a breeze to hold in one hand. The size is exactly right, with a near full size keyboard that is easy to touch-type on. The 8.9" LCD at 1024×600 is cramped but not unusably so. The bigger 10" Asus feels (and costs) much more like a full size laptop, and the keyboard on the equivalent 8.9" EeePC is too small to touch type on.
Storage
512MB of SDRAM with 8GB Solid State Drive might seem very small, especially when you subtract the 1GB swap partition from the tally. As shipped, there is a little over 3.5GB left for user files. None-the-less, Acer has cleverly provided a second SD card slot that is merged with the internal 8GB disk using overlays: insert an 8GB SD card, and the primary partition will gain an additional 8GB of space without repartitioning or funky mount commands.
For those that don't need a warranty, there is a vacant SDRAM slot inside the case that will take a 1GB memory stick should you need it. In practice, when surfing with Firefox or writing in Open Office, the machine barely touches the swap partition, so I'm not sure that the extra RAM is necessary in any case
Other Hardware Bits
The speakers in the Aspire One are nothing short of awesome. It's pretty annoying to have to strain to hear movie dialog on the crappy speakers built in to my £600 laptop, but the Aspire One not only has oodles of volume, but a better bass frequency response, at least when it's sitting on something solid like a table.
There are 3 USB slots, so adding a mouse, printer, and external drive without a USB hub is no problem. The only real letdown is the dreadful battery life. If I turn down the brightness, switch off Wi-Fi, and use non-CPU intensive applications, I can squeeze a little over 2.5 hours between visits to a power point. The other compromises Acer have made are a lack of built in Bluetooth (you'll need a tiny USB adapter) and an optical drive (you can make a bootable USB stick from the restore disk using another machine).
Software
The Aspire One comes preinstalled with Linpus Linux, which in turn is based on Fedora Core 8. I'm not really a fan of RPM distributions, but Acer have tuned this installation to the point where it will resume from suspend in around 10 seconds and cold boot to the desktop in less than 20 seconds, so I'm reluctant to change.
There's no doubt that the distribution is aimed at casual users, but as I've said before, this is still Linux so it's not impossible to tweak anything.
One final note is that Ubuntu is being actively ported to the Aspire One, and is in the process of ironing out the last few wrinkles as I write.
Conclusion
The Aspire One is not without its flaws, and for a power user, even the OS needs a good bit of tinkering to get the full potential out of the machine. There is a great user community already, and plenty of information on how to best make use of this little marvel.