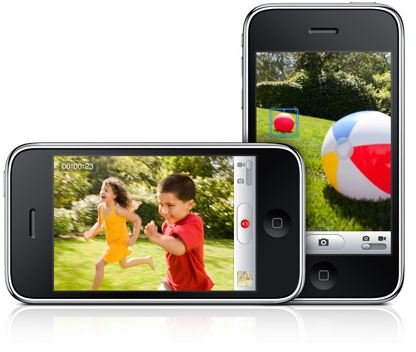 iPhone 3GS
No one could argue against the fact that the iPhone is one of the over-hyped, most popular, most used, praised, and belittled, mobile devices that ever graced the market. For iPhone fans like me, it's the epitome of a multitasking gadget. It's a mobile phone, a portable gaming device, a mobile internet device, a music and video player rolled into one. For it's 3rd iteration which came out middle of 2009, the iPhone 3GS has certainly earned the mark of being the most prolific gadget ever released by Apple. What did the iPhone 3GS offer us this year? - video capture, MMS capability, Internet tethering and loads of small bits of useful features iPhone users have been asking for.
Runner up: Google Android Phone - Google would have scored big time in the mobile phone market if it concentrated on mobile phone manufacturing. But that's out of Google's league so the Android platform was the best for the company to get a slice of the mobile phone craze.
Amazon Kindle
If Asus was able to define the netbook market niche with their Eee PC, Amazon almost did it with the e-book reader industry. Unfortunately for Amazon, there were already many e-books available when the Kindle came out. The good thing is, Amazon was clever enough to tie up their Kindle e-book reader with their online e-book store - allowing direct download of e-books via wireless network. And so, despite its many flaws and shortcomings, the Amazon Kindle still managed to get into our list because it was able to sustain user interest. This year, Amazon introduced the Kindle DX which is a bigger version of the original Kindle. Then recently, Amazon decided to take the Kindle into the international market releasing the Kindle International version. This in response to threats posed by a Barnes and Noble's Nook reader which will be a sure competitor of the Kindle.
Runner up: Sony PRS Reader- Sony's underrated e-book reader should run close second to the Kindle in terms of popularity. And it's a good thing that Sony decided to come up with their own online e-book store. Barnes and Noble's Nook e-Reader would have been a good runner-up but it came out a little too late.
Check out our previous comparison article between the Amazon Kindle vs. Sony PRS Reader
Eee PC 1000HE
Among the many models of the Eee PC that came out this year and despite the newer Seashell models, the Eee PC 1000HE still stands out from the rest of the pack this year. The Eee PC 1000HE epitomizes what a netbook should be - a perfectly sized LCD display which is not too small and not too big, longer battery life, good performance and reasonably price. It's a pity that Asus did not maximize the potential of the Eee PC 1000HE and decided instead to release newer and more powerful, but more expensive, models. But still, in our book - the Eee PC 1000HE is the best Eee PC so far.
Runner Up: All the other 10-inch netbooks in the league of the Eee PC 1000HE. There are many of them including the HP Mini 1000, Lenovo IdeaPad S10, and MSI Wind U150.
Read our previous review of the Eee PC 1000HE.
MacBook Pro 13-inch Unibody
Why include this specific MacBook Pro model despite the many Macs that we've seen came out this year? The 13-inch MacBook Pro brings the MacBook Pro closer to mainstream computing. Reasonably priced with enough power, this MacBook Pro made it easier for many Windows users to switch to the Mac. I for one finally made the big jump this year. And I'm glad I did.
Runner-up: We couldn't name one in this category. You see, that's what makes the MacBook stand out from the rest of the laptop crowd. When you say "MacBook Pro" you know immediately that you're talking about the Apple laptop. But when you say a Windows laptop, you could be talking about so many OEMs. Asus may have been on to something almost as big as the EeePC with the Bamboo U6V, a small laptop with a good deal of performance and a unique eco-themed bamboo exterior, but we have yet to see it outside of Asia.
Flip MinoHD
Since the Flip MinoHD came out in November 2008, it has grown in popularity. This portable video cam paved the way for consumer interest into ultra-portable video capturing devices. And with the growing popularity of user-generated videos on YouTube, the Flip MinoHD made it easier for users to immediately download their HD-quality video to YouTube.
Runner-up: iPod Nano 5G - If Apple released this latest iPod Nano with its video capture facility, it would have been our choice for the best portable video camera gadget this year. Unfortunately it came out a little too late.
Images