Introduction
Tablets are the new craze of 2011. Mobile computing is quickly going in the direction of tablets and there is no looking back. Tablets were originally popularized in April of 2010 with the release of Apple's iPad. Since the iPad came out, many companies have taken the concept of tablets and have made many improvements in the quest for the perfect tablet.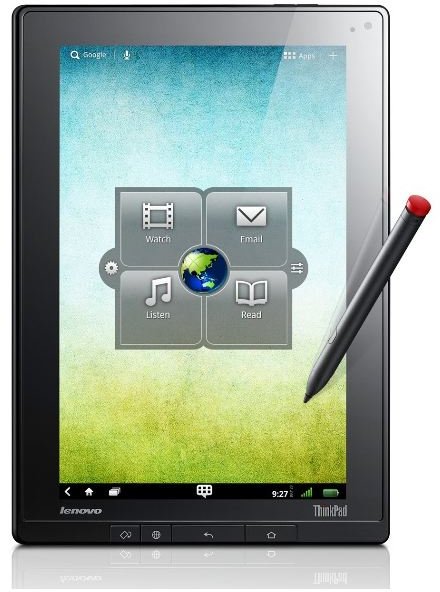 Now Lenovo, a leading laptop manufacturer, has entered the race for this perfect product. Lenovo released the Lenovo Thinkpad Tablet with Stylus on August 23rd, 2011. Since its release, the Lenovo Thinkpad Tablet has gained a lot of attention. So how does this tablet stack up with the competition. Let's find out!
The Looks
Made by Lenovo, looks like Lenovo. The Lenovo Thinkpad Tablet is rugged, tough, and feels durable. These qualities are "signature Lenovo" as Lenovo strives to make all of their products tough. Personally, I like this about the Lenovo Thinkpad Tablet. It makes me feel confident about the quality. I feel secure holding the tablet, and I don't mind handing it off to my kids.
The other design features which make up the product include: two cameras (one on front, and one on back), a stylus holder (which can be filled with a plastic case in the absence of a stylus), and buttons for web browsing, screen-rotation locking, back, and home. The Lenovo has about the same dimensions (10.3 x 7.2 x 0.6 inches) as most other tablets, however; it is slightly heavier and thicker than other leading tablets like the iPad and Samsung Galaxy Tab.
Overall, the design is pretty standard for most tablets. The one distinguishing feature that sets the Lenovo Thinkpad Tablet apart is its overall "tough/rugged" design.
The Software Features
The Lenovo Thinkpad Tablet is packed with lots of useful features for the users convenience and enjoyment. The Lenovo Thinkpad Tablet runs Android 3.1, and it includes most standard Android features. Users have access to the full Android Marketplace. Many popular apps are pre-installed. Some of these pre-installed apps include: Netflix, Gmail, Kindle, and more. The tablet is not pure Android though, Lenovo adds its spin on the software.
Lenovo's little tweaks to the Android software make the device significantly better. Certain features like the App Wheel were added by Lenovo. Some find this feature useful, while others find it a nuisance. The App Wheel allows for the user to access their top six favorite apps without having to change screens, or exit applications. The App Wheel is always accessible in the bottom of your screen regardless of what app you're running. I found this feature helpful and convenient, but for the Android veteran who is not open to much change, it can be confusing and difficult to get used to.
Another key Android feature that Lenovo tweaked was the ability to close apps with a designated button. I found this to be a great feature, and most users don't disagree. Closing apps in most Android devices can be somewhat of a pain, as you must go through settings and task managing apps to kill the program. Lenovo's innovative fix to this was to add a designated "exit" button to each app. Now closing apps is easier than ever. It's subtle changes like this that make Android on the Lenovo Thinkpad Tablet very enjoyable.
The Hardware Features
The Lenovo Thinkpad Tablet doesn't disappoint in the hardware category. The most notable hardware feature of the Lenovo Thinkpad Tablet is it's stylus. Very few companies have released tablets that are compatible with styluses. Having a stylus is a great feature for practically anyone. Whether you're a student taking notes in class, a contractor mapping out a site, or even a child who wants to be more precise with their doodles, the stylus can help out a lot! The Lenovo Thinkpad Tablet includes ports on the side for a stylus pen, this ensures the safety and security of your precious stylus. These styluses are indeed precious, as the price tag on them is quite hefty, $39.99.
Another notable hardware feature of the Lenovo Thinkpad Tablet is it's two cameras. The front camera is 2 megapixels, while the back one is 5 megapixels. The screen of the Lenovo Thinkpad Tablet is quite nice. It is 10.1-inches and has a resolution of 1280 x 800. Whether the brightness on the tablet is set to low or set to high, the picture quality does not waver. Movies look spectacular in all lighting and in all viewing angles.
Overall the hardware features of The Lenovo Thinkpad Tablet are great. When you throw in the fact it has a stylus, that just puts this tablet over the top.
Conclusion
The Lenovo Thinkpad Tablet with Stylus is definitely a tablet that I recommend. It is good for entertainment and great for business. Notetakers, and in general, anyone who writes, will greatly appreciate this tablet. It is very innovative, and the stylus earns it a thumbs up from me. The Lenovo Thinkpad Tablet stacks up well with competing tablets and has a decent price of $499.99 (for a 16GB model).
References
CNET.com

Bell, Donald. "Lenovo ThinkPad Tablet Review." Cnet.com. CNET. Web. 30 Oct. 2011. <http://reviews.cnet.com/tablets/lenovo-thinkpad-tablet/4505-3126_7-34848148-2.html?tag=mncol;rvwBody>.

LAPTOP Magazine

Piltch, Avram. "Lenovo ThinkPad Tablet Review." LAPTOP Magazine – Product Reviews, Tech News, Buying Guides, and More. LAPTOP Magazine, 23 Sept. 2011. Web. 30 Oct. 2011. <http://www.laptopmag.com/review/tablets/lenovo-thinkpad-tablet.aspx>.

Image Credit

TabletMan. "Lenovo's Business Android Honeycomb Tablet Launching in Europe This Month." Tablets Planet | The Latest News In The Tablet Computer World. Tablets Planet, 7 Sept. 2011. Web. 30 Oct. 2011. <http://tablets-planet.com/2011/09/07/lenovos-business-android-honeycomb-tablet-launching-in-europe-this-month/>.