Motorola Xoom Specs - Detailed Hardware Specifications and Tech Specs for the Xoom Tablet
Xoom Android Tablet
Motorola debuted the Xoom tablet in March of 2011 in order to give the Apple iPad 2 some serious competition in the growing tablet market. This device is powered by the same Android operating system found on many smartphones, and thus it runs many of the same apps. Just like the iPad and iPad 2, it is available in a cheaper WiFi-only model as well as one with built-in cellular phone technology compatible with Verizon wireless.
In this article, we'll look at the Motorola Xoom specs and see how they compare to the iPad 2.
Interface
You interact with the Xoom just like you would an iPad thanks to its multi-touch display and on-screen keyboard. The display is considered multi-touch because the touchscreen interface responds to multiple touches at the same time, such as when you pinch the screen to zoom into something or when playing a game that requires you to press more than one place on the screen at the same time.
Processor and Memory
A 1 GHz dual core processor comes standard on the Xoom, plus it features a full gigabyte of RAM. This is great for multitasking and quickly switching between running applications, and it makes for a smoother computing experience. The Android 3.0 platform supports Flash animation and the more powerful processor and increased RAM help it to run without dropping frames.
As for storage, the Xoom includes 32 gigabytes of internal storage and it does include a MicroSD card slot although it isn't functional just yet (werid, I know). Supposedly, a software upgrade at a later time will allow it to function, but I guess it's a good thing to have it there for when Motorola figures out how to make it work.
Video and Display Capabilities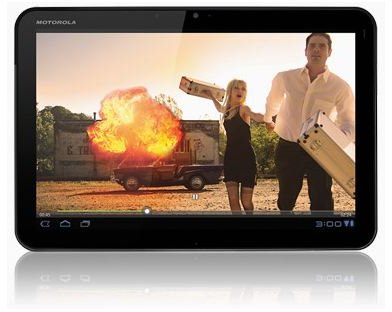 The Motorola Xoom offers a 10.1 inch high definition display that runs at a 1280 x 800 resolution, which is equivalent to 720p HD quality video. Actually, it's a little better. The video chipset is powered by NVIDIA, which make the same graphics used in many desktop and laptop computers, as well as the PlayStation 3. Thanks to the onboard graphics processor and the available HDMI port, you can hook the Xoom up to your HDTV with an HDMI cable and receive full 1080p resolution.
Front and rear facing cameras are installed on this system, with a 5 megapixel camera in back and a 2 megapixel camera in front. It is capable of capturing video at 720p HD. The lower quality camera is placed up front for doing video chat where you'll have the camera up close to you and won't need as high a camera resolution, plus it cuts down on the amount of bandwidth needed for video conferencing.
Xoom vs. iPad 2
The Xoom is a bit heaver than the iPad 2, but it offers a higher quality screen resolution and more ports, like HDMI and MicroUSB. The Xoom's full gigabyte of RAM is double that of the iPad 2, and both have dual core processors that run at comparable speeds. The main benefit of the iPad is that it has more apps available and Apple holds a larger market share which means its resale value may be better in the long term. The iPad 2 is also a bit cheaper.
In the end, the Xoom is technically superior to the iPad, but at the same time some people prefer the Apple OS to the Android, and the more well-establish iPad currently has a much larger following. As for which is better, it all depends on what you plan to do with it. One thing that is considered a major plus for the Xoom is that you don't have to deal with iTunes to use it.
References