Watch Your Motherboard!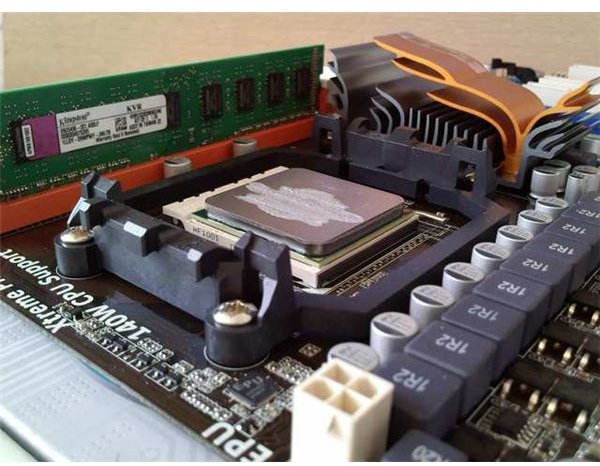 Keeping tabs on what your computer hardware is doing is important if you're trying to get the most out of your PC, and one way of doing this is with a motherboard monitor utility.
A tool such as this will display information about your motherboard (also known as a mainboard) on your Windows desktop. This might be the speed of your CPU, the state of your system RAM or even the ambient temperature inside your PC tower.
Such motherboard monitors are pretty easy to come by for Windows 7, allowing you to check on exactly what is going on inside your computer case!
Image by author
Check Your Mainboard Disc for Monitor Tools!
You should have received a motherboard driver disc no matter if you have built your own PC, had it built by a small local PC hardware store, or purchased the computer from a PC retailer or manufacturer.
What is interesting about this is that these driver discs usually ship with a set of utilities; typically an anti-virus suite, a console for the audio drivers for you to setup surround sound, and pretty often a motherboard monitor.
If you purchased a device with Windows 7 compatibility highlighted on the packaging, then you should find that the motherboard driver and utility disc features a compatible motherboard monitor.
Finding a Motherboard Monitor for Windows 7
Typically a motherboard monitor utility will display the motherboard temperature, fan speed and processor temperature and speed, although this depends on the motherboard and the sensors that have been supplied.
The following utilities are all good motherboard monitors that have been shown to work with Windows 7:
Amico Speedfan is suitable for 64 bit computers as well as many different motherboard sensor types.
Motherboard Monitor 5.3.7.0 is designed for use with Windows XP and Windows 2003 machines, however you should be able to run it reasonably successfully under Vista and Windows 7.
NVIDIA System Monitor meanwhile is a 3D system monitor that takes advantage of quality graphics processing to offer a 3D representation of the motherboard components and their temperatures. If your hardware is up to the task, this is an impressive motherboard monitor option!
Not What You're Looking for? Try a Mainboard Monitor for Windows Vista or XP
If none of the suggestions above work out for you (for instance you might be using a motherboard that doesn't support the chosen monitor utility) and there is no option available on the motherboard utility disc that came with your computer, you might consider looking for a desktop gadget from Microsoft or employing a utility designed for Windows XP or Vista.
Thanks to the similarities in the two operating systems – Windows 7 is largely an improved user interface and bug fix – if you can find a Windows Vista motherboard monitor tool you should give this a try on your Windows 7 computer to see if it measures up to your requirements!
References
Amico Speedfan – https://www.almico.com/sfdownload.php
Motherboard Monitor 5.3.7.0 – https://www.softpedia.com/get/System/System-Info/Motherboard-Monitor.shtml
NVIDIA System Monitor – https://nvidia-system-monitor.software.informer.com/
Author's own experience.