Introduction
It can be frustrating when your invaluable data is "so near but so far", as the phrase goes, when you have the data and the disk, but no way to access it because the drive is corrupt or physically damaged. Of course in hindsight we would always back up that vital information wouldn't we? No? Well you are not on your own if you have not backed up information that you normally take for granted, because things happen! The problem might also be that you backed up everything APART from the information you need to recover, and that happens too!
The problem could be further complicated if the disk is a boot disk (if the boot sector is damaged), because then the computer won't boot up to add to the problem of your data being lost! Let's see if we can dig you out of that hole you may well be in and at least get your data back, even if the disk is no longer usable. For that you need disk recovery tools, preferably free if possible, but some of the paid versions offer more specialist functions.
DIY Disk Recovery
The easy route to recovering your data would be to take it to a professional recovery company, but they can often be expensive with no guarantees that your data can be fully recovered.
By doing it yourself, you will avoid having to pay someone else, and you will learn more about the recovery process if the problem ever occurs again. Like the professionals, there are no guarantees that you will be able to get all of your data back by doing it yourself, but if you can at least recover a small part you can often re-construct your original data from what you have. DIY recovery is certainly worth a try, with the numerous tools now available to assist you in the process. Let's take a look at some programs used for physical hard drive data recovery.
TestDisk, Data Recovery (Free)
TestDisk is free and open source software capable of recovering bootable disks and corrupt partitions, caused by faulty software, viruses or user errors such as the deletion of a Partition Table.
TestDisk can recover problem partitions, and boot sector problems preventing startup. All FAT File systems are supported as are NTFS boot sectors. It can also repair the Master File Table (MFT) which is an essential aspect of the NTFS file system.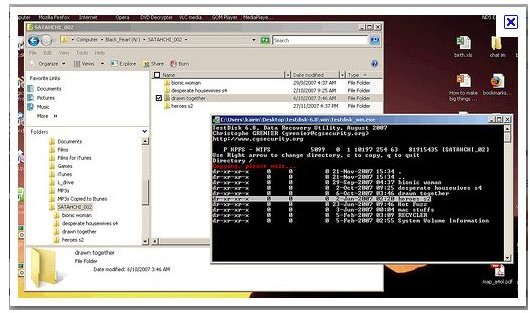 Linux and unix support is available as it can recover ext2/ext3/ext4 file systems and SuperBlock.
It is also capable of undeleting files from FAT, NTFS and all unix "ext" file types.
As programs used for physical hard drive data recovery go, TestDisk is reputed to be easy to use. It is a command line tool and is run from the command line in Windows.
Information is extractable for non-booting drives so that it can be used later for further analysis
Data Doctor Recovery (Commercial NTFS Product)
This software is a commercial product designed solely for NTFS.
Data can be recovered in the event of overwritten, erased, and corrupted partitions and, even if a partition has been formatted prior to the recovery process. Important file system elements such as partition tables, boot sectors and erased files can be retrieved alongside any files forgotten about, even if they existed previously and bad sectors are present on the medium.
Both NTFS and the NTFS5 file systems are supported. Multi storage support allows up to 128 storage mediums to be checked at once. The variety of devices that can be checked includes hard disks and/or other storage disk devices. IDE, SATA, EIDE and SCSI disks are all in the list of supported hardware devices that can be checked. It has an uncomplicated user interface, and this helps experienced and non-experienced users alike.
DATA Unerase Personal Edition™
For people simply looking for a way to recover files that have been deleted from the recycle bin, Data Unerase provides a freeware version for non-commercial use. The software does not offer anything sophisticated, beyond recovering files on local logical disks, as long as the disks are not hidden from Windows Explorer.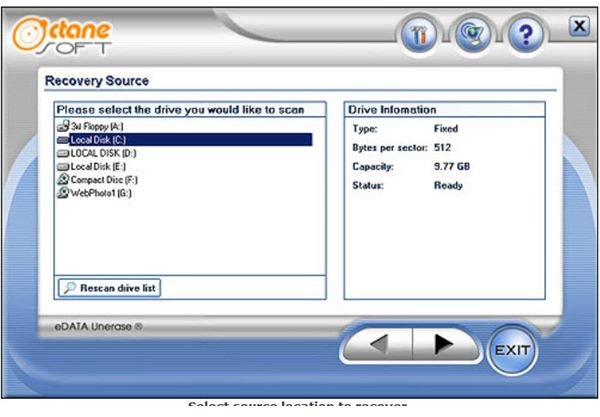 EASEUS Data Recovery Wizard Free Edition
The EASEUS software provides the capability to recover 1 GB of files for free. This means, in effect, that if more data than 1 gigabyte needs to be recovered there will be a need to pay a fee. Different types of file loss can be recovered, including recovering files emptied from the Recycle Bin, files missing due to computer failure, problem and damaged drives and issues due to virus attack. Partitions can also be recovered if they are no longer visible on the system.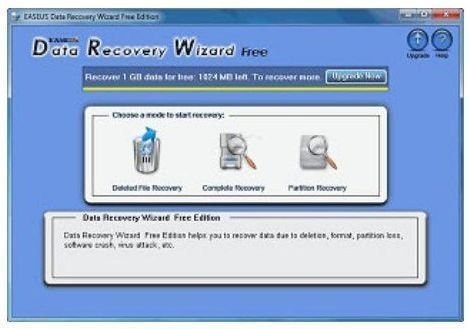 This product is flexible in the types of systems it can handle including different types of physical hardware, such as RAID devices, various types of disk types, including dynamic and even Linux systems.
The software also has other features not normally associated with programs used for physical hard drive data recovery such as the ability to recover files from Linux systems using Windows. For small recovery situations, it does the job admirably.
Conclusion
When considering suitable tools to recover data from problem hard drives you should keep in mind that the physical disk and how it's configured e.g. NTFS, FAT, EXT3 etc must be taken into account. You should ensure that the software you wish to use can handle the file type for the data you wish to recover.
Of course, the ideal situation is to BACK EVERYTHING UP, but that's just a big tip for the future!
References
TestDisk, https://www.cgsecurity.org/wiki/TestDisk
Data Doctor Recovery, https://data-doctor-recovery-ntfs.software.informer.com/
Data Unerase, https://www.octanesoft.com/data_recovery_free_edition.html
EASEUS, https://www.softperfect.com/products/filerecovery/