Louis Vuitton Damier Graphite Canvass iPad Case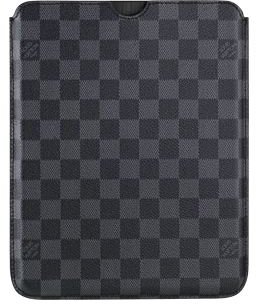 Since we are listing down designer iPad cases, what better way of starting our list than with Louis Vuitton? This LV iPad case is made of supple Damier Graphite Canvass that combines elegant design with masculine style. This case has a soft Microfiber lining that both protects your iPad and allows it to slip easily in and out of the case. It easily slips into your handbag or briefcase due to its compact and ergonomic form factor and design. The case also has a notch at the top to provide easy access to your iPad. (Price: $370)
Buy the Louis Vuitton Damier Graphite Canvass iPad Case.
Gucci iPad Case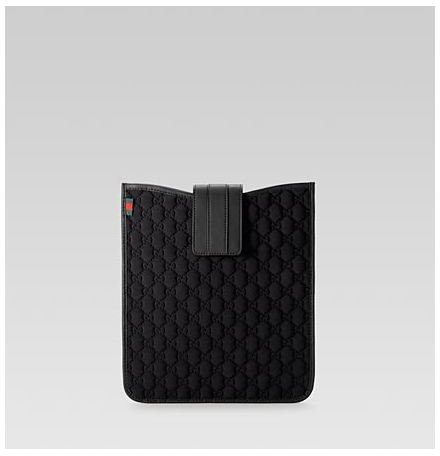 Next up in our designer iPad cases round up is another case from a popular designer brand – Gucci. The Gucci iPad case features a strap closure that holds your iPad inside the case and prevents it from accidentally slipping out. It has suede interior lining which keeps the screen of your iPad clean and protects it from being scratched. The iPad case is made of black neoprene GG with green/red/green signature web and black rubberized leather trim. (Price: $230)
Buy the Gucci iPad Case.
Chanel iPad Case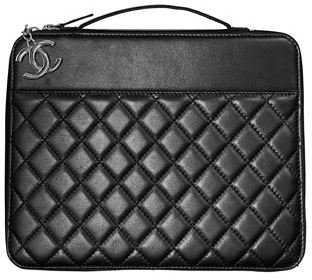 Want an iPad case that is more expensive than your iPad? Check out Chanel's iPad Case. It will cost you triple than the price you have to pay for your iPad if you bought the entry-level iPad. The Chanel iPad case costs around $1,555. Why the high price? It's made of the finest leather with quilted stitches that will draw attention from people who will see the Chanel case with your iPad inside. The case's classic appearance and timeless beauty also more than makes up for its high price. Any takers? (Price: $1,555)
Buy the Chanel iPad Case from a Chanel Boutique (not available online).
Oscar de la Renta Python and Crocodile iPad Clutches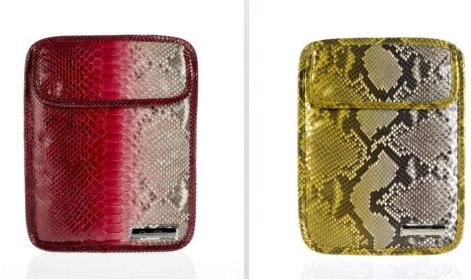 These Python and Crocodile iPad Clutches will go perfectly with your smart and stylish wardrobe. These cases bear Oscar de la Renta's signature brand tag at the bottom and offer a snap on closure with protective inside covering to protect your iPad. These iPad clutches are available in three styles – Red Python, Pearlized Rose Python and Pearlized Taupe. (Price: $390)
Buy the Oscar de la Renta iPad Clutch.
Burberry Embossed Check Patent Leather iPad Case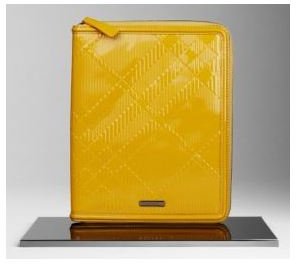 Finally, we have a designer iPad case from Burberry. The Burberry Embossed Check Patent Leather Case is made of sturdy leather with a zip around closure and a secure frame inside that keeps your iPad from slipping out. It has a metallic plaque up front bearing the Burberry logo. This designer iPad case is available in Gold Oxide, Jet Blue, Raspberry Sorbet, and Veridian Green. (Price: $485)
Buy the Burberry Embossed Check Patent Leather iPad Case.